Stoker enhances biomass boilers with multi-fuel capability.
Press Release Summary: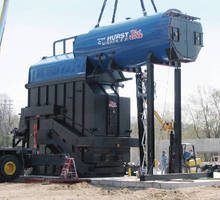 Available for biomass steam boilers, hot water boilers, and direct-fired STAG units, Reciprocating Grate Stoker offers automated ash removal and provides solid fuel combustion that allows mechanical replacement of fuel with minimal moving parts. Multi-fuel design is offered in various configurations to utilize selection of solid fuels: wood, coal, bark, construction debris, nuts, shells, husks, paper, card/board products, hog fuel, sawdust, shavings, sludge, and agricultural biomass.
---
Original Press Release:

Hurst Boiler Announces New Biomass Boiler Systems



January 02, 2009; Coolidge, GA, USA

Biomass Steam Boilers, Hot Water Boilers and Direct-Fired STAG units for Alternative Solid Fuel Systems

The latest edition in our biomass boiler series is the Hurst Reciprocating Grate Stoker with automated ash removal.

This unit offers the very best of solid fuel combustion allowing mechanical replacement of fuel with the least amount of moving parts. This efficient multi-fuel design is offered in various configurations to utilize a wide selection of solid fuels. All Hurst factory stokers are cast from the highest quality steel alloys and mounted on a robust undercarriage system.

Capable of burning wood, coal,bark, construction debris, nuts, shells, husks, paper, card/board products , hog fuel, sawdust, shavings, sludge and agricultural biomass.

The Hurst BIOMASS-TER features a Co2 Neutral Release and PLC based total systems monitoring.

Hybrid Series: Available in Steam or Hot Water Multi-Pass Dry Back Design, 100 to 1800 BHP, 15 to 450 PSI Steam.

N65 Series: Available in Steam or Hot Water Firebox Design, 100 to 1500 BHP, 15 to 450 PSI Steam.

S100 Series: Available in Steam or Hot Water Firebox Design, 100 to 800 BHP, Low Pressure Steam with Hot Water Options.

STAG Units (Stand-Alone Gasifier): STAG units are used when heated air is needed instead of steam or hot water. Hurst manufactures units to service Oil Heaters, Rotary Dryers, Lumber Kilns, Brick Kilns, and the firing and co-firing of Boilers. Available with components such as Ash Systems, Material Handling, Custom Blend Refractories, Combustion Air Systems and the Hurst BIOMASS-TER Combustion Monitoring System.

Our Biomass product line is available with options including Flat Grate Stokers, Underfeed Stokers, and Traveling Grate Stokers to meet all biomass system requirements.

Energy solutions based on biomass and bio-fuels provide clean and renewable energy. Green-thinking companies are now using biofuels to mitigate the impact their activities have on the environment by reducing emissions of greenhouse gases. This can also generate earnings by saving money on energy costs, and by the sale of carbon credits. Achieve energy independence, and no longer be at the mercy of the oil markets. Hurst Boiler is a leader in the development of boiler technology and energy management projects through sustainable solutions for renewable energy and energy efficiency by biomass.

HURST Biomass Boiler Systems can reduce, or even eliminate your energy and disposal costs through the combustion of renewable and sustainable fuel sources, also known as Biomass.

To learn more about HURST Biomass Boiler Systems and see models and plan views please visit www.hurstboiler.com

Contact: jhurst@hurstboiler.com
229-346-3545

More from HVAC