Sterling Launches Custom Bulk Bag Unloading Systems
Press Release Summary: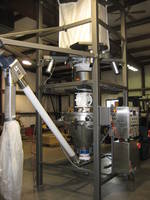 Features include material weighing and batch dispensing, system controls, bag hoist, bag massagers and dust containment
Designed to unload or discharge a bulk bag into a fixed hopper within a system
Specific requirements include mechanical/pneumatic conveying, magnet for tramp metal removal, integral dust containment, bag dump station and lump breakers
---
Original Press Release:
Custom Bulk Bag Unloader
Sterling, IL: Sterling Systems & Controls, Inc. is pleased to announce its line of bulk bag unloading systems. These unloading systems are highly custom engineered and manufactured. They can include many special features, such as material weighing and batch dispensing, system controls required for automatic operation, bag hoist, bag massagers, a variety of valve types, dust containment and much more.
Being able to maximize your bulk solid material purchases has the benefits associated with buying in large bulk, e.g. lower cost, less production interruptions, etc. Like the bulk material itself, bulk bags come in a wide variety of styles and even sizes. The type of bag you need to unload is usually dependent on your supplier. No matter what bulk bag your material is contained in, 'nroesler@sosland.com'; 'jspencer@sosland.com' you will always need an effective bulk bag unloader that is going to meet the exacting needs of your application.
Sterling Systems & Controls, Inc. offers a full line of Bulk Bag Unloaders that incorporate many of the same structural aspects as our micro, minor, and major ingredient weighing systems, but are specifically designed to unload or discharge a bulk bag, typically into a fixed hopper within your system. Bulk bag unloaders are customized to meet the specific needs of each customer application. Solutions are often provided to unload bulk bags of dry bulk solid materials and directly fill supply bins such as drums or tote tippers. Whatever your application requires we will customize a bulk bag unloader to meet your specific requirements. This can include:
Batch Weighing, Controls and System Automation
Magnet for tramp metal removal
Mechanical or Pneumatic Conveying
Gain-In-Weight or Loss-In-Weight Solutions
Integral Dust Containment
Bag Hoist (Electric or Pneumatic)
Bag Massagers (Agitator Paddles)
Bag Dump Station
Lump Breakers
Floor Mount or Through-Floor Mount
Sterling Systems & Controls, Inc. has 45+ years of experience providing efficient solutions for batching, micro, minor and bulk weighing, bag unloading systems, as well as plant automation. Sterling's designs utilize the latest technology to provide specialized data management, raw material management, along with production data tracking. For more information contact Sterling Systems & Controls at 1-800-257-7214, sci@sterlingcontrols.com, and at www.sterlingcontrols.com.
More from Software