Stereo Zoom Microscopes feature high magnification ranges.
Press Release Summary: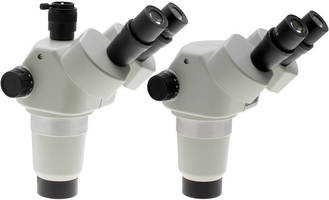 Binocular and trinocular models have 15x eyepieces to achieve 21x–135x continuous zoom magnification at working distance of 3.3 in. With optional 20x eyepiece, magnification from 28x–180x is possible. Eyepieces, set at 45° angle, have interpupillary distance adjustment, and each eyepiece tube also has diopter adjustment. Customizable or available as complete system, microscopes feature click-stop zoom adjustments and multi-coated optics. Trinocular body adds one-touch fine focus adjustment.
---
Original Press Release:

High Magnification Ranges Are Standard in Aven's New Stereo Zoom Microscopes



ANN ARBOR, MI – Two high-magnification stereo zoom microscopes expand Aven's lines of advanced instruments for scientific, industrial and medical applications.



The binocular and trinocular models have 15x eyepieces to achieve 21x to 135x continuous zoom magnification at a working distance of 3.3 inches (84 millimeters).



Magnification rises to a range of 28x to 180x with an optional 20x eyepiece.



The scopes have advantages for circuit board checks or repairs, other small parts inspection, medical device manufacturing, forensic examination, life sciences lab work such as dissection and fossil study and cleaning.



"Our new microscopes offers an industry-leading range that typically requires an upgraded objective lens or eyepiece purchase," says Aven president Mike Shahpurwala. "Continuous zoom capability and crisp resolution boost productivity."



Eyepieces are set at a 45-degree angle and have an interpupillary distance adjustment, allowing comfortable use even by operators with glasses. Each eyepiece tube also has a diopter adjustment.



Both Aven models can be customized with lighting and optical accessories tailored to specific needs, including four stand selections: pole with focus mount, pole with LED lighting and dual arm booms with a base or clamp. They're also available in complete system choices with stand, mount, illumination and auxiliary optical components.



The Japanese-engineered binocular and trinocular scopes have multi-coated optics with an assurance of no spherical or chromatic aberrations.



"High-grade glass and a straight light path provide maximum clarity and undistorted viewing in these Greenough optical system scopes, unlike some entry-level instruments," Shahpurwala adds. "These sophisticated products are precise, reliable and adaptable for varied operations in high-volume settings."



Click-stop zoom adjustments ensure accurate, repeatable measurements. The trinocular body has a one-touch fine focus adjustment.



Aven microscopes are manufactured for the Michigan-based supplier by Carton Optical Instruments, Ltd., of Japan, a leading maker of telescopes, binoculars and ophthalmic instruments.



They enlarge a stereo microscopy line with six other zoom models and three standard versions.



For more information, call (734) 973-0099. A digital catalog is at www.aventools.com/print-and-web-materials.



See us Feb. 10-12 at ATX West in Anaheim, Calif., Booth 4446.



Aven, Inc. manufactures and distributes high-performance optical instruments and precision tools for microscopy, inspection and assembly. More than 800 products include video inspection systems, integrated portable microscopes, video borescopes, task lights and stainless steel tools for lab use and precision hand tools such as tweezers, pliers, cutters, screwdrivers, crimpers, knives and alignment tools. Brands include Mighty Scope, iLoupe, Miruc, Carton, Technik and Accu-Tek.



A technology innovator since 1983, Aven is located in a high-tech corridor of Southeast Michigan.

More from Cleaning Products & Equipment