Stencils mark plant and warehouse floors.
Press Release Summary: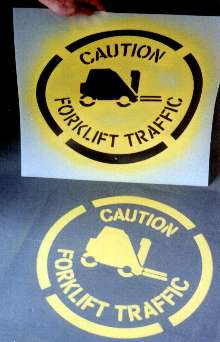 Made from 1/16 in. PolyTough plastic, Floor Marking Stencils are designed to improve plant and warehouse safety and traffic flow. User lays stencil on floor and paints over it with spray or brush. If marking gets damaged or worn, user can simply respray it. Stencils available include: CAUTION FORK LIFT TRAFFIC, KEEP AISLE CLEAR, and NO SMOKING.
---
Original Press Release:
Floor Marking Stencils

Ralph Newman, president of Newstripe, Inc. is pleased to announce the introduction of the Newstripe safety floor marking stencils. Designed to improve plant and warehouse safety and
traffic flow, these stencils have several advantages over other marking systems. First, they are easy to use. Simply lay the stencil on the floor and paint over it with spray or brush. Second, if a marking gets damaged or worn, you simply respray it. Made from 1/16" PolyTough plastic, Newstripe's floor marking stencils are super tough and can be used thousands of times. Stencils available include: CAUTION FORK LIFT TRAFFIC, KEEP AISLE CLEAR, NO SMOKING, etc.

Newstripe, Inc. also manufactures a complete line of other standard and custom stencils, including letters, numbers, company logos, school mascots, and traffic marking. Other products from Newstripe, Inc. include 18 models of pavement and athletic field markers, asphalt crack and concrete joint filling equipment and athletic field maintenance equipment.

For additional information, contact:

Ray Krebs

Newstripe, Inc.

1700 Jasper St. #F

Aurora, CO 80011

Ph: (800) 624-6706

Fax: (303) 364-7796

E-mail: rayk@newstripe.com
More from HVAC