Steel, Aluminum, or Stainless Steel Split Set Collars with Adjustable Hand Lever Available from J.W. Winco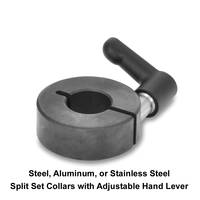 NEW BERLIN, WI – J.W. Winco, Inc., a leading supplier of standard industrial machine components, announced it now has available GN 706.4 Steel, Aluminum, or Stainless Steel Split Set Collars in metric sizes with Adjustable Hand Levers for tool-less clamping.
The split set collars can safely and simply be assembled with high clamping forces via the adjustable lever without damaging the surface of the shaft the collar is being mounted on. With a shaft tolerance that should be within h11, these RoHS compliant set collars not only serve as an end stop, but they can also be used for fixing or triggering other components such as end limit switches.
Also available in stainless steel and aluminum, the steel version body is made from sintered steel with black oxide finish. The handle of the adjustable hand lever is zinc die-cast, with a black electrostatically applied powder coat finish, and the insert and screw are stainless steel.
J.W. Winco offers an extensive selection of inch and metric size adjustable levers, cabinet U-handles, plastic and steel hinges and locking mechanisms, revolving and retractable handles, hand wheels, hand cranks, tube connection and conveyor components, inch and metric construction tubing, shock absorption mounts, leveling mounts, hand knobs, spring, ball and indexing plungers, jig, fixture and fastening components, retaining magnet assemblies, toggle clamps, metric casters and wheels, universal joints, oil sight glasses, and metric tools for the industrial and commercial equipment industries. J.W. Winco's website catalog, with 3D CAD and online buying, is viewable at www.jwwinco.com.
For more information, contact
J.W. Winco
at 800-877-8351,
by fax at 800-472-0670,
on the Web at www.jwwinco.com,
and via e-mail at sales@jwwinco.com.
More from Mounting & Attaching Products