Starter Kit aids rapid prototyping of brushless DC motors.
Press Release Summary: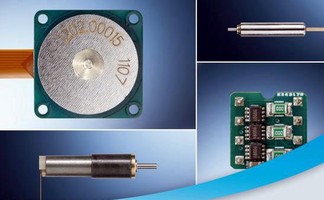 Designed to facilitate work with MicroMo miniature synchronous motor, Microsystems Starter Kit contains drive electronics, adaptor board, and motor. Adapter board has integrated oscillator for speed control, PWM frequency of 500 kHz, and direction of motor rotation is reversible. Kit accommodates DC Brushless motors series 0206...B, 0308...B, and 1202...BS/BH, which offer respective continuous torque capabilities of 0.012, 0.014, and 0.012 mNm.
---
Original Press Release:

Rapid Prototyping with Micro Brushless DC Motors



Starter Kit for Micro Brushless DC Motors

MicroMo Electronics, Inc. announces the release of a Microsystems Starter Kit with Synchronous Drive Systems. The Microsystems Starter Kit contains drive electronics, an adaptor board, and a motor and was developed to allow a design engineer to simply and quickly get started with a MicroMo miniature synchronous motor. The Microsystems Starter Kit is available with DC Brushless motors series 0206...B, 0308...B and 1202...BS/BH. Each motor easily hooks up to the adapter board. The adapter board contains an integrated oscillator for speed control. The PWM frequency is 500 kHz and the direction of rotation of the motor is reversible.

The FAULHABER motor Series 0206...B is the world's smallest brushless DC motor. It has a diameter of 1.9 mm and a length of only 5.5 mm. The brushless DC motor weighs a mere 0.09 grams. It can achieve a continuous torque of 0.012 mNm with speeds up to 100,000 RPM. The brushless DC motor is available with a micro planetary gearhead, the series 02/1, which allows for a continous torque rating up to 0.15 mNm in continuous operation and up to 0.30 mNm in intermittent operation. Due to their electronic commutation, the service life of these motors is only limited by the bearings.

The Smoovy Series 0308...B has just been redesigned and released to market. This new version of the brushless DC motor uses the "System FAULHABER" skewed winding in combination with a rotor made of Neodymium rare-earth magnets to provide cog-free motion. The bearing system of the Series 0308...B brushless DC motor is now composed of jewel bearings. With an external motor-diameter of only 3 mm and a length of 8 mm and a weight of 0.33 g the motor is truly a microdrive. Due to their electronic commutation, the service life of these motors is only limited by the bearings. The brushless DC motor can achieve a continuous output torque up to 0.014 mNm at speeds up to 15,000 rpm. The Series 0308...B Brushless DC motor can be combined with a gearbox and a linear actuator for a complete miniature DC drive system. The plastic planetary gearhead is available in a 3 mm diameter with various reduction ratios allowing a continuous output torque up to 0.88 mNm and up to 1.32 mNm in intermittent operation. The linear actuator consists of a M1.6 X 0.2 high precision lead screw and is ideal for positioning applications.

The Penny motor Series 1202...BH is a flat brushless DC motor. It has a diameter of 12 mm and a height of only 2 mm. The brushless DC motor weighs a mere 1.1 grams. It can achieve a continuous torque of 0.12 mNm with speeds up to 60,000 RPM. The brushless DC motor rotor is produced using photolithography rather than mechanically as is common in other motors. This allows for precise, synchronous operation without cogging. Due to their electronic commutation, the service life of these motors is only limited by the bearings. The DC brushless motor is available as a gearmotor in the Series 1307...BH and Series 1309...BH.

The Series 0206...B, the Series 1202...BH, and the Series 0308...B brushless DC motor can be driven by the FAULHABER BLD 05002 S Synchronous Drive Servo Amplifier. The BLD 05002 S is an electronics Synchronous Drive Servo Amplifier with sine form output voltage that operates with PWM at 500 kHZ and with a power supply ranging from 2.7 to 5.5 V DC.

Microsystems Starter Kits are immediately available from stock with a 24 - 48 hour turnaround.

For additional information and samples please contact a MicroMo Electronics, Inc. Application Engineer at 800-807-9166 or send an email to info@micromo.com or visit the website at www.micromo.com

About MicroMo Electronics, Inc. and the FAULHABER Group
Headquartered in Clearwater, Florida, MicroMo Electronics, Inc. is the North American source for the world's smallest high precision DC drive systems, components, and controls. MicroMo Electronics, Inc. is a member of the FAULHABER Group which offers the world's largest consolidated portfolio of miniature and micro drive system technologies available from one partner in the world today. The Group specializes in the design and manufacture of complex, high precision miniature and micro drive systems for challenging areas of application like medical devices, handling automation, telecommunications, and precision optics.

CONTACT INFORMATION:
Ted Severn
MicroMo Electronics, Inc.
727-572-0131
www.micromo.com

More from Computer Hardware & Peripherals