Starrett Introduces Flexible Force Testing Systems Design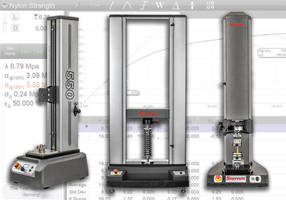 The Full Range of Starrett Force Software Solutions are now Interchangeable with Different Starrett Frame Series.
Athol, MA U.S.A. (December 17, 2019) – The L.S. Starrett Co., a leading global manufacturer of precision hand tool gages, a broad range of force testing, metrology equipment, and more, has introduced a flexible selection architecture that enables the range of Starrett force and material testing software programs to be compatible with its different test frame series. This interchangeable system architecture increases application versatility, providing users a wider range of solution options from basic to advanced, for their specific force and material testing needs.
Starrett L2, S2, L2 Plus, and L3 software are now compatible and interchangeable with all Starrett Frame/ Stands Series (FMM, FMS, FMD, MMS, MMD). In addition, Starrett L1 and S1 software is compatible with FMM Series Frames.
Starrett FMM Frame Testers are compact and ideal for high volume, lean manufacturing production. Starrett FMS and MMS Frames accurately determine simple load, distance and break, or more complex material testing applications such as Young's Modulus, tensile strength, stress or strain. Starrett FMD and MMD Series Test Frames are suitable for simple force and distance measurements, as well as more complex material testing applications.
Starrett Force and Material Testing software programs enable a full range of testing solutions. Starrett L1 Software is ideal for quality control and incoming inspection. Engineered to meet the requirements for fast, efficient, high-volume production testing, L1 combines functionality with affordability. Starrett L2 Software is well suited for demanding force measurement testing to create complex testing methods or when using standard Starrett test templates, for all types of force measurement applications. Starrett L2 Plus software provides engineering and quality personnel with an easy-to-use, yet comprehensive solution for complex force analysis and measurement. Starrett L3 Software is optimal for users involved with material testing and characterization, research and design engineers, quality control, test technicians, and others.
Starrett S1 Software represents a basic digital testing solution for compression and extension springs. S1 is ideal for high-volume production testing and individuals looking for more consistent testing results. Starrett S2 Software is an application-specific solution for testing compression and extension springs, enabling spring rate, spring constant, initial tension, free length and more, fast and efficiently.
For more details on Flexible Force System Design Solutions from Starrett visit starrett.com/forceflexibility.
About The L.S. Starrett Company
Founded in 1880 and headquartered in Athol, MA U.S.A., The L.S. Starrett Company is a leading global manufacturer of precision measuring tools and gages, optical comparators and vision systems and force and hardness testing solutions. Starrett also manufactures laser measurement systems, custom engineered granite solutions, custom gaging, band saw blades, power tool accessory saw blades, workshop tools and jobsite tools. The Starrett brand is recognized throughout the world for exceptional quality and precision. Skilled personnel, superior products, manufacturing expertise, innovation and excellent service and support have earned Starrett its reputation as the "World's Greatest Toolmakers". Starrett has over 1,600 employees worldwide and annual sales exceeding $200 million. The company has six manufacturing locations in the U.S.A., including facilities in Massachusetts, North Carolina, Georgia, Ohio, Minnesota and California. Starrett also has three international manufacturing facilities. Plants are located in Brazil, Scotland and China, in addition to distribution centers and offices located worldwide. The L.S. Starrett Company is publicly traded on the NYSE, symbol SCX.
For more information, contact The L.S. Starrett Company, 121 Crescent Street, Athol, MA 01331 U.S.A. Telephone: (978) 249-3551, Fax: (978) 249-8495, email: general@starrett.com, internet: (https://www.starrett.com)
Editorial Contact:
Michael McCue
McCue & Associates LLC
978-733-1353
mmccue@mccueassociates.com
Company Contact:
James Clinton
The L.S. Starrett Company
978-249-3551
jclinton@starrett.com