Industrial / Specific Purpose Computers
Stainless Steel Industrial PC has integral heating system.
Press Release Summary: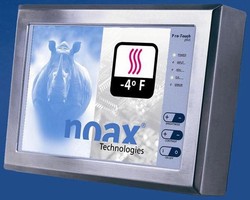 Suited for harsh environments where hygiene is crucial, fully sealed noax S12 is constructed to IP65 standards, has polished 304 stainless steel enclosure, and features 12 in. TFT display with SVGA/XGA resolution. Integrated resistive touch panel with hardened plastic surface facilitates operation, and electronically controlled heating system enables use in sub-zero temperatures. System can be augmented with Intel Celeron 1.0 GHz or Pentium M 1.4 GHz processors.
---
Original Press Release:

12" Stainless Steel, Industrial PC with Pentium M Technology and a Heating System



noax Technologies is introducing a new 12" stainless steel, industrial PC with Pentium M technology and a heating system. The new noax 12" stainless steel, industrial PC is capable of higher processor performance and has improved on-board and expansion features as well as an electronically controlled heating system. The fully sealed V2A (304) stainless steel computer, constructed to safety standard IP65 (NEMA 4X), is designed for diverse applications in harsh environments where hygiene is essential, such as the food industry.

Subject: 12" stainless steel IPC Media: Meat processing

Whether used for mobile applications in fork lifts at sub-zero degrees, or located directly at a hygienically sensitive production line, the waterproof and extremely compact noax stainless steel, industrial computers can be utilized in a wide range of applications under extreme environmental conditions. In order to warrant several years of long and trouble-free operation, the new noax 12" steel series, industrial PCs combine compact and completely enclosed stainless steel construction, built according to the safety standard of IP65 (NEMA4X), with a heating system, as well as high performance and a long operating period of at least five years for all supporting components, by means of fully customized, all-in-one, in-house developed motherboards.

The S12: designed for the highest hygiene standards

The noax 12" stainless steel industrial PC distinguishes itself by its polished V2A 1.4031 (304) stainless steel enclosure with totally smooth surfaces. This feature ensures that the noax S12 complies with the most stringent hygiene food industry requirements. Due to its enclosed construction without ventilation slits or external fans, the IPCs are completely splash proof and thereby rated in safety class IP65. It is customary that the computers are outfitted with high contrast and durable 12-inch industrial TFT displays, which have a resolution of 800 x 600 or 1024 x 768 (SVGA / XGA) and can still guarantee good legibility under even the worst conditions. The integrated, resistive touch panels with a hardened plastic surface ensure simple operation. When continuously used in locations having harsh chemicals, such as exposure to acid or caustic solutions, the displays can be covered with touch-sensitive, adhesive safety film. The double-safety connection and the inclusion of a particularly shock-resistant hard disk protect it from jarring, vibration and shock. When mounted directly on production carriers, noax can also install special shock-resistant solid-state disks and special shock-absorbing plates if desired.

Pentium M technology in a compact and completely sealed stainless steel enclosure

The fully customized all-in-one N8 motherboard, developed by noax, combines high performance, and an extensive selection of on-board interfaces, as well as a number of expansion possibilities by means of standard slots, arranged in the smallest space. The S12 can be augmented with an Intel Celeron 1.0 GHz or an Intel Pentium M 1.4 GHz, if desired. In addition, working storage can be upgraded to 2 GB and the hard disk can be upgraded from 30 to 60 GB. It is also standard that the board can support numerous on-board interfaces, such as 2 x RS232 (optional RS433 or 485, RRY), 5 x USB 2.0, Network Ethernet (RJ45) 10/100/1000, LPT, Monitor-DVI, PS/2 and floppy connections. In addition, the board opens diverse expansion possibilities by means of 2 on-board PCI slots, compact flash type II and mini-PCI sockets. They allow a variety of peripheral systems, such as WLAN, weighing systems, readers and scanners to be connected in a simple and uncomplicated way. Even the connection of printers, external keyboards and drives is not a problem. Because of the extremely small unit dimensions of only 364 x 254 x 78 mm (14.33" W x 10" H x 3.07" D), the noax S12 computer is one of the most capable and compact stainless steel industrial PCs on the market.

The heating system brings the S12 from -20º C (-4º F) to operating temperature in 5 minutes

Thanks to its electronically regulated heating system, the S12 stainless steel industrial PC was recently improved so that it can be also be utilized at an expanded temperature range, as low as minus 20 degrees Celsius (minus 4 degrees Fahrenheit). With use of a high-output heater, the industrial PC can be brought up to operating temperature in only 5 minutes and then started. Nothing else prevents it from operating in ambient and freezing temperatures.

Micro controllers: Enhanced operating security
The installed, on-board, micro-controller automatically controls numerous, individually scalable monitoring functions, such as an elapsed time indicator, temperature monitoring as well as control of background lighting and heating system.

10-year service and support guarantee

Existing users of the older S12, with N6 motherboard, do not have to be concerned about replacement parts or service and support, since noax Technologies will guarantee passive support for at least five more years after expiration of the five-year active production time of the industrial PC. With this ten-year service and support strategy, noax guarantees long-term investment security for industrial PCs. It is therefore not unusual that many noax computers are still in service after 10 years; truly unusual for industrial PCs.

noax Technologies is considered to be one of the leading manufacturer of rugged, industrial PCs. The company is based on many years of experience with their own development and production of completely sealed IPCs without external ventilators. In addition, noax offers its customers an extensive spectrum of services, ranging from consultation, operation and installation, as well as service and support. Noax IPCs are used worldwide in the most rugged, industrial environments and demonstrate their endurance against heat, cold, moisture, dust, vibration and shock, as well as against acid and caustic solutions.

Headquarters North America
noax Technologies Corp.
10115 Kincey Avenue, Suite 142
Huntersville , NC 28078
Phone: 704-992-1606
Fax: 704-992-1712
E-mail: info-na@noax.com
Internet: www.industrial-panel-computer.com

More from Electronic Components & Devices