Stainless Steel Coatings offer chip and scratch resistance.
Press Release Summary: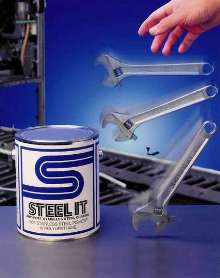 STEEL IT® Anti-Rust Coatings features 316 SS leafing pigment that creates metallic barrier to prevent corrosive attack of base metal. Capable of withstanding dropped tools that would damage conventional paints, coatings can be applied by spraying, brush, or roller. USDA-approved products withstand chemicals, solvents, salt spray, UV light, detergents, and high-pressure washing. Exhibiting 2H pencil hardness, coatings provide smooth finish that can last up to 10 years.
---
Original Press Release:
Stainless Steel Coatings Feature High Chip and Scratch Resistance
A line of stainless steel coatings that can be applied by spraying, brush, or roller and features high chip and scratch resistance is available from Stainless Steel Coatings, Inc. of S. Lancaster, Massachusetts. STEEL IT® Anti-Rust Stainless Steel Coatings feature a 316 SS leafing pigment that creates a metallic barrier which provides a durable chip- and scratch- resistant finish to prevent corrosive attack of the base metal. Capable of withstanding dropped tools that would damage conventional paints, these corrosion-resistant coatings can be applied by spraying, brush, or roller. USDA-approved, STEEL IT® Anti-Rust Stainless Steel Coatings are formulated to withstand chemicals, solvents, salt spray, UV light, detergents and high-pressure power washing. Providing a smooth finish that can last up to 10 years, depending upon the environment, these coatings exhibit 2H pencil hardness and can be applied without breaking down an entire production line. STEEL IT® Anti-Rust Stainless Steel Coatings are priced from $99.00 (list) per gallon, depending upon formulation. Literature is available on request. For more information contact:
Stainless Steel Coatings, Inc.
Michael Faigen, Marketing Director
835 Sterling Rd. / P.O. Box 1145
So. Lancaster, MA 01561
(978) 365-9828 FAX (978) 365-9874
e-mail: mfaigen@steel-it.com
www.steel-it.com
More from Material Processing