ST Robotics Innovations New for 2023
Press Release Summary: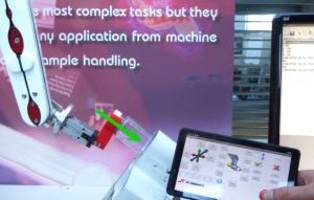 New upgraded version of the wireless teach console, available for  ST robot models and suitable for 4, 5 and 6 axis robots.
---
Original Press Release:
New practical innovations from ST Robotics for 2023
PRINCETON, NJ, USA, February 20, 2023 /EINPresswire.com/ -- The Android based teach console communicates with the robot controller via Bluetooth. Now the user can get in close to fine position a robot without the limitations of a cable. Many robot manufacturers teach consoles have very thick and stiff cables making it difficult to see and program the robot from all angles.

ST Robotics have always supplied a free simple teach pad that connects via a long flexible cable and if the user goes too far the connector simply pops out without any damage to cable or connector. But the Bluetooth solution goes one better: no cable at all !

Positioning the robot with the console is all based on Cartesian coordinates, displaying current robot coordinates and with gripper control and programmable functions.

Moreover the robot EOT can be positioned using World or Tool modes. Tool mode permits motion at any angle, making positioning the robot in difficult situations so much easier. The photo shows a sample bottle being inserted into a metal housing.

Even though there is no wired connection the emergency stop still functions.

Since the robot controller is able to control and read from associated equipment such as valves, sensors etc, these can be operated directly and wirelessly from the Bluetooth console. Just by switching modes on the console any RoboForth command can be sent to the controller while leaving the PC connected as usual.

For more information please contact ST Robotics, 103 Carnegie Center, New Jersey 08514, call +1 609 584 7522 or ST Robotics, Cambridge, UK at +44 1223 420288 or visit our website at https://strobotics.com.
David Sands
ST Robotics
+1 609-584-7522
email us here
Visit us on social media:
Facebook
LinkedIn
YouTube
Related