SSI Interface Module supports networked PLCs.
Press Release Summary: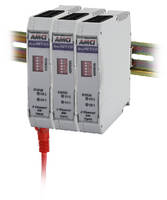 Integrating network connection and expansion capabilities, AnyNET ANE2 SSI Interface Module provides SSI feedback solution for any PLC-based system. DIN rail-mounted unit expands up to six 2-channel modules, allowing users to interface up to 12 SSI sensors using single network connection. Programming through host controller's software, interface is compatible with most gray code or binary SSI sensors including rotary encoders, linear sensors, barcode readers, and laser distance sensors.
---
Original Press Release:

SSI Interface for Networked PLCs



Terryville, CT – Advanced Micro Controls Inc. (AMCI), announces the addition of their ANE2 SSI Interface Module to the AnyNET I/O family of PLC-based specialty I/O products.  AMCI's AnyNET SSI Interface integrates a network connection and expansion capabilities to provide a modern, versatile SSI feedback solution for any PLC-based system.  The ANE2 expands up to six 2-channel modules, allowing users to interface up to 12 SSI sensors using a single network connection. The interface programs through the host controller's (PLC) software, and is compatible with most gray code or binary SSI sensors including rotary encoders, linear sensors, barcode readers, and laser distance sensors. 



ANE2 AnyNET I/O SSI Interface Features:

• Direct interface to most gray code or binary SSI sensors

• Built-in network interface

• Position scaling that simplifies sensor data

• Latching inputs provide "snapshot" data capture

• Supports up to 12 SSI sensors on a single network connection

• Easy programming without additional software

• DIN rail mounting



Overview

The AnyNET I/O ANE2 is a full featured 2-channel SSI interface that communicates with the host controller (PLC or PAC) over the network.  The interface satisfies a wide range of applications because of its flexible design. It easily mounts on a standard DIN rail, simplifying installation and lowering costs.



The ANE2 is compatible with any PLC that supports the product's available networks since it's programmed using the input/output registers within the host controller.  No additional software is required to use the SSI interface with the PLC/PAC.  Users have the option of configuring & testing the ANE2 using AMCI's convenient PC-based Net Configurator software (downloaded at no charge).  



Modular Design

AnyNET I/O easily expands from 1 to 6 I/O modules by stacking additional units onto the "gateway", and only requires a single network connection for all communication.  This solution enables the support of up to 12 SSI sensors over a single network connection, which reduces physical wiring and streamlines data traffic over the network.



AMCI's AnyNET I/O family now includes: ANE2 SSI Interface, ANA2 Resolver Interface, ANG1 Stepper Controller/Drive, & LVDT/RVDT Signal Conditioner. For more information on AMCI's AnyNET I/O family, visit our website>> www.amci.com/anynet



About Advanced Micro Controls Inc.

Founded in 1985, Advanced Micro Controls, Inc. (AMCI) is a leading U.S. based manufacturer with a global presence.  AMCI industrial control products improve PLC-based automation systems with specialized position sensing and motion control technology that simplifies automation and adds reliability to manufacturing processes. AMCI designs and manufactures all of their products, enabling superior quality and innovation. The company provides 24/7 technical support staff, ready to answer questions about installation, configuration and operation of all AMCI products.



Media Contact: Rachael Novak

Telephone: (860) 585-1254 ext-132

Email: rnovak@amci.com

More from Mechanical Power Transmission