Sprocket requires no bolts, tools, or welding to install.
Press Release Summary: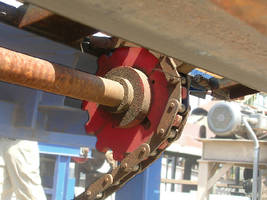 Made of polyurethane, REDCO(TM) Snap It 750 offers abrasion and wear resistance. Unit is available for H-78, H-130, C-188, and 81X chains and is compatible with split hubs and a-plates. All hub bores are finished to size with running clearances and grease fitting. Designed to fit any 9-15 tooth a-plate, sprocket causes no chain or shaft wear.
---
Original Press Release:

New Sprocket Design that Requires No Bolts, No Tools and No Welding



Redwood Plastics introduces its newest innovation; a new sprocket design that requires no bolts, no tools and no welding to install and gives every benefit that the industry has come to expect from tough Redco 750 polyurethane sprockets - reduce cost, less chain and equipment wear and significant noise reduction.

REDUCE MAINTENACE COSTS

REDCO(TM) SNAP IT* IS EASY TO INSTALL

Redco(TM) Snap It Sprocket requires no bolts and is easy and quick to assemble; simply match the arrows on the a-plate and snap together.

INCREASE PRODUCTION

DECREASE DOWNTIME AND INCREASE PROFITS

Redco(TM) Snap It Sprocket is designed to be interchangeable to reduce your inventory levels and is much less expensive than split steel sprockets.

REDUCE NOISE & EQUIPMENT WEAR

REDUCE WEAR ON YOUR EQUIPMENT WITH NO DAMAGE TO PRODUCT

Redco 750 has excellent abrasion and wear resistance with high impact values. Not only is Redco 750 much less expensive than steel but it also drastically reduces noise levels and has a longer wear life.

o No chain wear and no shaft wear

o Kraftmill pulp safe

o Available for H-78, H-130, C-188 and 81X chains.

o Compatible with split hubs and a-plates

o All hub bores are finished to size with running clearances and grease fitting.

o Fits on any a-plate from 9 to 15 tooth.

For more information:

Visit our website at: redwoodplastics.com/snapit

Call us at 1 800 667 0999 in CDN or 1 866 755 2684 in the USA.

*PATENT PENDING

More from Health, Medical, & Dental Supplies and Equipment