Spray Fluxing Systems have integrated ultrasonic nozzle generator.
Press Release Summary: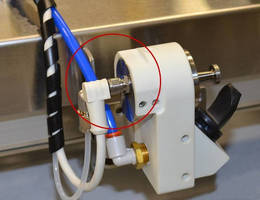 SonoFlux fluxers, including SonoFlux Servo, SonoFlux EZ, and SonoFlux 2000F systems, are available with ECHO ultrasonic generator technology. Energy efficient as well as CE-certified and RoHS-compliant, ECHO accelerates swap out of any nozzle without changing any settings to facilitate maintenance and replacement of nozzles. Corrosion-resistant and IP67-rated M8 cable connection enhances power delivery to ultrasonic nozzle.
---
Original Press Release:

Sono-Tek Corporation to Debut Integrated Ultrasonic Nozzle Generator for All Fluxers in its SonoFlux Line at APEX



Milton, NY — Sono-Tek Corporation (OTC BB: SOTK) will showcase a new integrated ultrasonic nozzle generator for all fluxers in its SonoFlux line in Booth #1141 at the 2016 IPC APEX EXPO, scheduled to take place March 15-17, 2016 at the Las Vegas Convention Center.



Beginning in 2016, Sono-Tek will be incorporating its latest ECHO ultrasonic generator technology in all new SonoFlux spray fluxing systems, including the SonoFlux Servo, SonoFlux EZ and SonoFlux 2000F systems, resulting in process improvements. ECHO enables very fast swap out of any nozzle without changing any settings, making maintenance and replacement of nozzles a breeze. In addition, the ECHO is more than twice as energy efficient as its predecessor, and is certified CE and RoHS compliant.



As part of the power system upgrade, a new M8 cable connection offers further improvement in enhanced power delivery to the ultrasonic nozzle. This robust cable features superior connection with greater corrosion resistance, higher electrical protection (IP67) and better reliability.



Sono-Tek is constantly improving and innovating to further increase performance and enhance functionality of the SonoFlux line of ultrasonic spray fluxers, while continuing to offer world-class service and support for all of its spray fluxing equipment. This "behind the scenes" upgrade will be clearly visible to PCB manufacturers in the maintenance and reliability of all new SonoFlux systems in 2016.



Visit Sono-Tek's website at www.sprayfluxing.com to learn more or email info@sono-tek.com.



About Sono-Tek Corporation

Sono-Tek is the world leader in the development and application of liquid ultrasonic atomization technology into nozzle systems and spraying and coating application systems. Compared to conventional pressure spraying methods, the company's ultrasonic nozzles do not clog, reduce liquid usage, waste, and environmental impact while achieving much more precise, uniform, thin film coatings. Sono-Tek is continually developing new applications for its unique technology, replacing wasteful practices in a world that is growing ever more environmentally sensitive. For more information, visit the company at www.sono-tek.com.

More from Agricultural & Farming Products