Speed Up Your AOI and X-ray Inspection with Viscom at APEX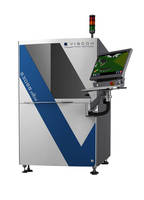 Duluth, GA – Viscom announced today that it will exhibit in Booth #1763 at the 2016 IPC APEX EXPO, scheduled to take place March 15-17, 2016 at the Las Vegas Convention Center. Viscom's applications experts will present the company's new 3D AOI and X-ray developments.



The world's first and only combined in-line 3D AXI/3D AOI system



For the first time in North America Viscom will unveil the new and completely redesigned version of its most successful and well established X7056 in-line automatic X-ray inspection system. Now equipped with powerful digital flat panel detectors and X/Y stages, the new X7056 FPD allows for even more accurate planar 3D analysis of hidden fine-pitch solder joints such as µBGA, QFNs and stacked packages (PoP), achieving an immense improvement in X-ray image quality.



On top of that, the X7056 combo system is now optionally equipped with Viscom's new high-speed 3D XM camera module with high resolution top-down and up to eight angular views. Fast shadow-free 3D automatic optical inspection (AOI) and simultaneous 3D automatic X-ray inspection (AXI) enable operators to reliably detect 100 percent of visible and hidden solder defects with highest flexibility at maximum throughput.



Viscom presents new 3D AOI system line-up



Viscom added new 3D AOI systems to its award-winning S3088 system family that completes the line-up for the widest range of applications. The new high-end S3088 ultra gold doubles 3D throughput with a higher resolution compared to currently available systems on the market, providing up to four times the data points for 3D measurements. The S3088 ultra and the new model S3088 ultra blue represent the most versatile AOI system configurable with many options and a highly standardized economic version, respectively. The S3088 systems with the revolutionary vVision interface provide fast, intuitive program generation and the highest inspection speed utilizing the Viscom XM camera modules. For the Quality Department, the S3088 ultra provides accurate and reliable inspection down to 03015 and complete fault coverage using up to nine views plus 3D, offering height measurement of components up to 25 mm height.



High resolution X-ray CT system X8011 with Viscom quality uplink



Viscom's future-oriented approach to manual X-ray inspection (MXI) is presented with the X8011 PCB. In addition to advantages such as the flexible adaptation to new requirements, the lengthy service life and brilliant image quality, this MXI-solution is known for its user-friendly compatibility with other inspection gates of Viscom, including e.g. solder paste inspection (SPI). Thus, all the data and results needed are available immediately. Whether it is AOI, SPI, AXI or MXI – the systems from Viscom are intelligently networked. Thus, the reasons for errors can be much better unlocked and processes can be optimized on the basis of comprehensive information.



For more information, stop by booth #1763 at the IPC APEX EXPO or visit www.viscom.com.



About Viscom

Viscom AG manufactures and sells high-quality automatic optical and X-ray inspection systems. The company is one of the leading suppliers of 3-D solder paste inspection, component placement and solder joint inspection equipment in the PCB assembly market. Viscom systems ensure quality in surface mount technology production lines, where they can be interlinked to further improve productivity. The company's headquarters and manufacturing operation is located in Hanover, Germany. With a wide network of branches, applications and service centers, Viscom is represented throughout Europe, Asia and the Americas. Founded in 1984, Viscom has been listed on the Frankfurt Stock Exchange (ISIN: DE0007846867) since 2006. For more information, visit www.viscom.com.





More from Electronic Components & Devices