Spectrophotometer Calibration Tools cover NIR range.
Press Release Summary: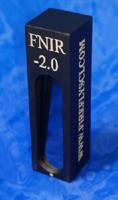 Consisting of proprietary blend of doped glass, WAV-8 NIR Solid-State Wavelength Filter produces series of distinct calibration peaks from 700–3,000 nm. With 12 peaks, spectrophotometer calibration of wavelength scale can be highly fine-tuned. FNIR-Series Filters maintain linearity from 700–3,000 nm, enabling technicians to validate 5 certified calibration points in NIR range. Superband-Series Filters, with span of 10 calibration points, cover UV, VIS, and NIR range from 200–3,000 nm.
---
Original Press Release:

3 Trendsetting Features of FireflySci's New NIR Spectrophotometer Calibration Reference Standards



NEW YORK  -- In the past several months, FireflySci has been innovating and developing new spectrophotometer calibration tools for scientists working in the NIR range. When it comes to verifying performance from 700-3000nm, typically the options have been limited. Here are three new things that FireflySci brings to the table:



1. The First NIR Wavelength Filter to Feature the Solid State Advantage



To date, FireflySci is the only company to have produced a solid-state wavelength accuracy filter. The WAV-8 NIR is a proprietary blend of doped glass, which produces a series of distinct calibration peaks between 700 and 3000nm. With 12 peaks, spectrophotometer calibration of the wavelength scale can be highly fine-tuned.



The WAV-8 NIR has a solid advantage over all other NIR wavelength filters, which are either liquid or polystyrene. When it comes to liquid, the hidden costs are a nightmare. These filters need to be recalibrated annually at a cost of nearly 50% of the original purchase. These costs and time spent in transit and calibration make for a dull prospect. Polystyrene is typically the choice for institutions such as NIST but this material presents its own set of challenges, namely that it is a cheap and easily damaged. The lower sticker price is appealing but the frequency to which they will need to be replaced becomes a nuisance to laboratories.



2. New Photometric Accuracy Options deep into the NIR Range



Most other spectrophotometer calibration standard manufacturers give you a limited range of how deep into the NIR range you can go. Typically 2800nm is the cap and there will be a large drop-off in quality after this point. FireflySci's new FNIR-Series maintains stellar linearity from 700-3000nm, enabling technicians to validate a selection of 5 certified calibration points in the NIR range. The Superband-Series, however, takes the cake, with its span of 10 calibration points that covers the UV, VIS and NIR range from 200-3000nm. Both filters are made from FireflySci's nano-deposition material and will work on any spectrophotometer regardless of optics.



3. Any and All Wavelength Points Available in the NIR Range



Another feature that FireflySci offers uniquely for its spectrophotometer calibration filters is the ability to customize your calibration certificate. An FNIR filter comes standard with 5 points including 700, 1100, 1700, 2700 and 3000nm. What happens, however, if a user wants to validate a point such as 2800nm and it's not on the certificate? Not only will other vendors not be able to provide this calibration point as their filters are not able to express the value of 2800nm but they will frequently not provide this information without a prohibitively high cost. FireflySci gives the option to customers to select alternate points to the 5 points that are there by default at no additional charge. What's more, the entire calibration data is available upon request.



Media Contact:

Gordon Cinco

347-441-4277

More from Electrical Equipment & Systems