Sonobond Ultrasonics Offers a Wide Selection of Ultrasonic Bonding Machines for Woven and Nonwoven Textile Applications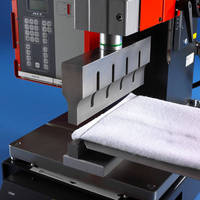 Manufacturers look to Sonobond technology for reliable, environmentally-friendly assembly of medical disposables, automotive filters, body armor, evening gowns, blankets, and a host of other products.

WEST CHESTER, Pennsylvania - Sonobond Ultrasonics announced today that it now has 10 machines, plus several modules for original equipment manufacturers (OEMs), that provide fast, reliable, and cost-effective ultrasonic bonding of woven and nonwoven textile products. According to Sonobond's Vice President, Melissa Alleman, "Manufacturers and assemblers can confidently use Sonobond units to bond textiles that are 100% synthetic, as well as blends that have up to 40% natural fibers. Felted filter media are among the nonwoven materials that our machines handle effectively."

The following is an overview of the ultrasonic bonding equipment for woven textiles and nonwovens currently available from Sonobond Ultrasonics.

The SeamMaster (TM)-- for General-Purpose Ultrasonic Bonding

The Sonobond SeamMaster(TM) seals, "sews," and trims nonwoven and synthetic fabrics in one quick, reliable step. The unit is similar in appearance and operation to traditional sewing machines, but uses no thread, glue, or other consumables. The SeamMaster(TM) fuses and seals seams so effectively that it can be used in the assembly of medical disposables that must comply with OSHA regulations for barrier seams. This makes it ideal for use in the production of gowns, face masks, and mattress covers. The unit-which is up to four times faster than conventional sewing machines and up to 10 times faster than adhesive machines-is also frequently used in the assembly of filters and protective products.

The SeamMaster(TM) High Profile Bonder

The SeamMaster(TM) High Profile Bonder has a larger pattern wheel and a higher clearance above the bench than the general-purpose SeamMaster(TM). This makes it the ideal choice for applications involving bulky materials, hand-guided operations with tight tolerances, and for working around curves. Like the general-purpose SeamMaster(TM), the High Profile Bonder has fast production speeds and virtually eliminates fraying or unraveling of bonded edges and seams.

The SeamMaster(TM) High Profile Bonder is especially popular with body armor manufacturers. They use this unit to seal the outer nylon shell of ballistic vests with the ballistic-resistant materials inside. The reliability of the bond helps the body armor comply with the latest National Institute of Justice (NIJ) submersion test standards (NIJ 0101.06) that require protection from submersion for 30 minutes, rather than protection from a spray shower. The unit's dependability and performance also make it ideal for manufacturers who must satisfy OSHA regulations for barrier seams in medical apparel. In addition, a special fixture is available for sewing pleated filters. It is also available as a modular unit for easy integration into the production process.

SeamMaster(TM) 10 Ultrasonic Cutter/Sealer

This table-mounted version of the popular SeamMaster(TM) is ideal for handling a variety of patterns up to 10mm wide. Fraying and unraveling are totally eliminated along the sealed edge as a double layer of fabric passes under the unit to automatically join the two layers as they are slit and sealed. The SeamMaster(TM) 10 is much faster than sewing or adhesive machines and operates at speeds of up to 60 feet per minute. The working area is 16" x 20" with the pattern wheel located in the table for easy interchange.

SeamMaster(TM) Modules for OEMs

These modules are cost-effective tools for OEMs in the textile industry. They incorporate seaming, slitting, crosscutting, and trimming capabilities into special-purpose ultrasonic bonding machines. Like all machines in the SeamMaster(TM) line, the modules feature a rotary ultrasonic system and wheel for results that are superior to those provided by stationary sonic methods. Single, multi-, or dual head arrangements are available in addition to a variety of easy-to-change pattern wheels. SeamMaster(TM) modules provide trouble-free continuous action and include the motor drive for the sonics and the pattern wheel.

RingMaster(TM) Filter Bag Machine and Filter Collar Bonder(TM)

These ultrasonic bonding units attach plastic collars to felted filter media and have been specially designed for high-quality assembly of the filter bags used for chemical and industrial liquid applications. Custom tooling accommodates different bag sizes and ring diameters. By using these machines for filter assembly, manufacturers eliminate problems associated with stitch holes or with threads getting caught in pumps.

The RingMaster(TM) features three welding heads and a two-step process that is completed in less than 10 seconds. The unit produces up to 250 bags per hour. The Filter Collar Bonder(TM) is ideally suited for low-production applications. It creates a reliable 360º bond in as little as 45 seconds and can produce between 50 and 80 bags per hour.

The Sonobond Ultrasonics PlungeBonder(TM)

This versatile and powerful machine is designed for applications involving large or difficult-to-bond materials. This makes it a popular choice for sealing filter bag ends and for producing box-style filters.

The PlungeBonder(TM) can accommodate different thicknesses and multiple layers of materials in just one pulse. The unit delivers superior repeatable performance and can be customized to satisfy specific customer applications. It features a rigid rectangular support column that eliminates deflection, even at the full 660 pound force level. The unit also has a built-in leveling feature in the base with "T" slot and toe clamps for fixture holding. No more shims are needed to level the nest.

Custom tooling of the PlungeBonder(TM) enables straps made of coated synthetic material to be bonded within the seams of a ballistic vest's outer shell. This does not compromise the integrity of the ultrasonically sealed outer shell. As a result, the body armor can continue to comply with current NIJ submersion requirements.

SureCut(TM) Cutters/Sealers

These loom-mounted or hand-held tools cut cleanly, while sealing the edge of synthetic films and fabrics in one noiseless pass.

Sonobond's SureCut(TM) Cutters/Sealers help reduce labor costs by doing away with extra trimming steps. Fraying, unraveling, and material buildup (beading) along the cut edge are eliminated. These cost-effective Sonobond units are ideal for ribbons, trims, labels, and Velcro strips. They are designed for cutting and sealing of knitted, woven and nonwoven fabrics made of polyester, nylon, polypropylene, thermoplastic urethane, and other synthetic blends.

Hand-Held Cutters/Bonders

Sonobond's hand-held cutters/bonders are lightweight, compact, and easy to operate. They are ideal for cutting and bonding lightweight synthetics, nonwovens, and plastic films. They give operators exceptional control and accuracy in handling delicate assemblies.

Sonobond customers can choose from several models. These include the HandWelder(TM) HG35 for spot welding of plastics and synthetics in applications involving small or tight areas...the HandWelder(TM) HW35 for sealing the edges of plastic packages, such as blister packs...and the HandWelder(TM) HW70 for welding, cutting, and bonding plastic films and miniature plastic components.

These units eliminate the need for mechanical fasteners, adhesives, or heat bonding.

Sonobond's Cylinder Arm Machines

Cylinder Arm Machines provide specialized assembly of synthetic fabrics and nonwoven materials. They are especially suited for the production of side seams and for curved or circular piece goods. Applications include sleeves, pant legs, cuffs, vests, filters, edge binding, swimwear, surgical gowns, and other medical disposables. Manufacturers and assemblers can achieve various stitch patterns through a choice of pattern wheels.

As the name implies, the machines feature a cylindrical "arm" extension which allows curved and straight pieces to be "sewn" (fused). Off-the-arm applications include the production of lengthwise side seams. Around-the-arm applications involve attaching sleeves, cuffs, and collars.

The LaceMaster(TM) Bonding Machine

This fabric-decorating machine is designed specifically for the production of high-quality lace and trim on woven and nonwoven materials. It is available with over 500 optional and interchangeable pattern wheels for slitting, lacing, embossing, and tacking, and it produces patterned trims up to 2-7/8 inches wide. Although similar in appearance to traditional sewing machines, it is much faster and more efficient. LaceMaster(TM) applications include: hemming and lacing of blouses, dresses, lingerie, bathing suits, tablecloths, and pillows; embossing of packaging, apparel, ribbons, and trim edges; and printing of fabric trim, edging, and special effects.

Advantages of Ultrasonic Assembly

Ultrasonic vibrations fuse nonwoven and woven synthetic materials, eliminating the need for needles, thread, or glue. As a result, there are no stitch holes or glue gaps. This makes ultrasonic bonding the optimal choice for assembling such medical products as hospital mattress covers and body bags. In addition, Sonobond's SoftSeam(TM) ultrasonic process is excellent for producing surgical masks, gowns, and drapes that have soft, reliable, non-abrasive seams. These seams are capable of satisfying tough regulatory requirements while protecting medical personnel from hazardous fluids.

In discussing the advantages of ultrasonic bonding, Vice President Alleman said, "We are pleased that all our textile assembly machines are environmentally-friendly and easy to operate with only minimal training. Most important of all, Sonobond technology is very cost-effective and extremely reliable."

A Leader in Ultrasonic Welding Technology

Sonobond is a worldwide leader in the application of ultrasonic welding and bonding technology. Over the past 49 years, the company has earned an outstanding reputation for its pioneering work and quality-engineered products. Sonobond manufactures a complete line of ultrasonic welding and bonding equipment for a wide variety of customers in the filtration, apparel, medical, automotive, appliance, electrical, HVAC, and aerospace industries. In addition, Sonobond personnel provide solid technical support and superior service before, during, and after installation of equipment. They are committed to helping companies find customized solutions to their specific ultrasonic bonding needs.

Additional Information

To learn more about Sonobond products-or to get information about the company's free, no-obligation Ultrasonic Bonding Viability Test-visit the website at www.SonobondUltrasonics.com or call toll free 1-800-323-1269.

More from Software