Soluble Oil System suits machining and grinding operations.
Press Release Summary: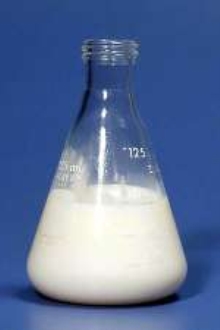 TRIM® VHP® E810 delivers boundary and EP lubricity without chlorine or sulfur. Low-foam product keeps machine clean while wetting chips and tools to insure corrosion prevention. Environmentally-friendly, chemical emulsion or soluble oil coolant is suited for horizonal and vertical machining centers equipped with high-pressure, through-the-tool coolant delivery systems, as well as centerless, cylindrical, and creep feed grinding of ferrous and nonferrous metals.
---
Original Press Release:
Master Chemical Introduces TRIM® VHP® E810, A Chlorine-Free, Environmentally Friendly, Low Foam Soluble Oil

PERRYSBURG, Ohio, November 19, 2004 - Coolant management innovator, Master Chemical Corporation introduces a new member to its extremely successful Very High-Pressure (VHP) family of products. TRIM® VHP® E810, like its earlier family members is a high-lubricity, very low foam product designed to allow machine tools to take advantage of the latest high-volume, high-pressure coolant delivery systems. However, VHP E810's very fine, extremely stable emulsion system allows the extension of this proven very low foam technology into more general machining and grinding operations. TRIM VHP E810 delivers high levels of both boundary and EP lubricity without the use of chlorine or sulfur in an easy- to-use, easy-to-manage soluble oil system.

"TRIM VHP E810 is a very versatile product", says Andy Nelson, Product Manager, "that works well in a wide range of operations such as production, surface, creep feed, and centerless grinding, milling, turning, drilling, and tapping. TRIM VHP E810 is a chlorine-free, environmentally friendly, low foam, chemical emulsion or soluble oil coolant. It is ideally suited for vertical and horizontal machining centers equipped with high-pressure, through-the-tool coolant delivery systems as well as centerless, cylindrical, and creep feed grinding of both ferrous and nonferrous metals. VHP E810 does not foam while still keeping the machine clean, rapidly wetting the chips and tools to insure good tool life and good corrosion prevention. It is specifically designed to meet the needs of the modern machine tool with high-volume, high-pressure coolant delivery systems.

Nelson says, "In testing of operations as varied as gundrilling, creep feed grinding, and down-the-hole work on vertical milling centers with HPHV through-the-tool coolant delivery, VHP E810 proved to be a superior fluid." VHP E810 provides fast wetting without foam to get the fluid to the point of cut and fully coat the work piece and chips for superior corrosion prevention.

Master Chemical Corporation was founded on November 13, 1951. Since then, working closely with the worldwide metalworking community, Master Chemical Corporation has developed and marketed a full line of specialty cutting and grinding fluids, cutting oils, concentrated washing and cleaning compounds, and rust preventives all under the TRIM® Brand trademark. These products are both environmentally sound and when used in conjunction with Master's XYBEX® Coolant Recycling and Filtration Systems, are the most durable and stable products available anywhere today.

For further information please visit Master Chemical's website at www.masterchemical.com or call us at 419-874-7902.

Mark W. Scherer

Manager-Communications

Master Chemical Corporation

501 West Boundary

Perrysburg, OH 43551

Phone: 419-724-7729

Fax: 419-874-2979

mscherer@masterchemical.com

www.masterchemical.com
More from Electrical Equipment & Systems