Solid-carbide End Mills with Smaller Neck Diameters Increase Application Range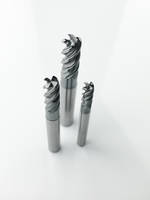 TROY, Mich., November 3, 201 6 - The Jabro ® -Solid2 JS554 range of solid-carbide end mills gains further utility and versatility with smaller neck diameter options. These latest tools provide greater clearance when machining complex components, such as those found in aerospace, medical and general machining applications.
Smaller neck dimensions make it easier to access parts clamped in complicated fixturing arrangements, as well as enable users to take full advantage of 4-axis and 5-axis machining capabilities. The neck sizes are optimized to retain tool rigidity while providing full compatibility with standard toolholder connective systems. The tools maintain their ability to productively machine materials in the ISO P, M, S and other material groups.
JS554 end mills provide high stability and low deflection. They also bring an excellent price-performance ratio to a range of applications, and these latest additions further expand the line's advanced capabilities.
The range of JS554 end mills covers tool diameters from 3 mm to 20 mm and typical cutting lengths 2xD+2 mm. Reach lengths are 3xDc. The range also includes corner radius and 45̊- chamfer versions, for both Cylindrical and Weldon shanks.
For more information on JS554 end mills, please contact a local Seco representative or visit www.secotools.com/jabrosolid2.
About Seco Tools, LLC
Seco Tools, LLC is a leading provider of metalcutting solutions for milling, turning, holemaking and toolholding. The company prides itself on building close relationships with customers to effectively understand and address their needs.
For more information on the company's products and services, please contact
Bob Heery,
Seco Tools,LLC,
2805 Bellingham Drive, Troy, Michigan,
Tel: 248.528.54 51,
Email: bob.heery @secotools.com,
visit www.secotools.com/us
More from Food Processing & Preparation