Solder Paste is lead and halide free.
Press Release Summary: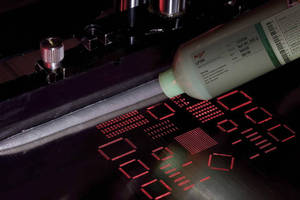 Offering solderability over wide range of reflow profiles in both air and nitrogen, Multicore® LF700 works on Ni/Au, immersion Sn, immersion Ag, and OSP copper surface finishes. Capable of reducing voiding in BGA solder joints, it delivers high tack force to provide stability during high-speed component placement and offers long printer abandon times of up to 4 hr even when printed onto extremely fine-pitch 0.4 mm CSP apertures.
---
Original Press Release:

Multicore LF700 Solder Paste from Henkel Offers Exceptional Lead-free, Halide-free Performance



Irvine, California, June 1, 2009

With the majority of the electronics industry fully on board with lead-free manufacturing, solder paste materials requirements are now moving beyond basic functionality and toward more advanced, truly enabling capabilities. Addressing these needs, Henkel has engineered Multicore® LF700(TM), a new lead-free, halide-free solder paste that has been formulated to deliver a wider range of benefits and performance characteristics than older-generation and competitive products.

While conferring the necessary requirements for halide-free, no clean, lead-free processes, Multicore LF700 also delivers unique attributes that further advance modern manufacturing. The material reduces voiding in BGA solder joints, delivers a high tack force to provide stability during high-speed component placement and offers long printer abandon times of up to 4 hours even when printed onto extremely fine-pitch 0.4mm CSP apertures. Process versatility is at the foundation of Multicore LF700, as it offers excellent solderability over a wide range of reflow profiles in both air and nitrogen and is effective on several surface finishes including Ni/Au, Immersion Sn, Immersion Ag and OSP copper.

The material also addresses the industry's unyielding drive toward even more highly miniaturized devices. "Today's lead-free and halide-free solder systems not only have to perform well, but do so in increasingly tighter dimensions," explains Dr. Michael Todd, Vice-President of Product Development and Engineering for Henkel's Electronics Assembly and Semiconductor divisions. "Multicore LF700's low viscosity delivers outstanding deposition and reliable print performance on today's small- and medium-sized PCBs without sacrificing anything in the way of reliability or process capability."

Tested at abandon times of up to 4 hours, Multicore LF700 has shown exceptional recovery rate performance - even in extreme humidity - when printed onto 0.4mm CSP apertures. After 8 hours of exposure to 80% relative humidity (RH), Multicore LF700 exhibited excellent coalescence, further underscoring the material's performance versatility in addition to its climatic adaptability.

Historically, one of the more challenging issues with some of today's lead-free solder paste formulations is solder joint voiding. Through its unique flux chemistry, Multicore LF700 reduces voids in BGA solder joints, delivering higher reliability and outstanding in-field performance. This feature, combined with the material's wide print, reflow and humidity resistance process window, its high tack force, surface finish compatibility and long printer abandon times, makes Multicore LF700 one of the most robust solder technologies in the market today.

"Henkel's leadership in lead-free solder development spans over 15 years and our history in solder technology goes back decades," states Todd. "The Multicore LF700 evolution draws on all of that experience, understanding and expertise to yield this exceptional material."

To find out more about Multicore LF700 or any of Henkel's leading solder technologies, call 949-789-2500 or log onto http://www.henkel.com/electronics.

About Henkel

For more than 130 years, Henkel has been a leader with brands and technologies that make people's lives easier, better and more beautiful. Henkel operates in three business areas - Home Care, Personal Care, and Adhesives Technologies - and is ranked among the Fortune Global 500 companies. More than 60 percent of Henkel's sales are in fast-moving consumer goods, while the industrial business accounts for almost 40 percent of the company's total sales. In fiscal 2007, Henkel generated sales of 13,074 million euros and operating profit of 1,344 million euros. Our more than 55,000 employees worldwide are dedicated to fulfilling our corporate claim, "A Brand like a Friend," and ensuring that people in more than 125 countries can trust in brands and technologies from Henkel.

Contact

Henkel Corporation

Doug Dixon

Phone: 949-789-2500

Fax: 949-785-2595

doug.dixon@us.henkel.com

www.henkel.com/electronics

More from Materials