Software simplifies use of CNC and PLC systems.
Press Release Summary: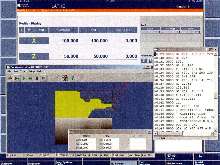 System200 Version 22 provides multi-tasking PLC system with PC plug-in cards, compact rack PLC cards, and soft-PLC running on IndraView industrial PC. Fieldbus systems such as Interbus, Profibus, and DeviceNet are supported. Clearly structured messages, multi-language text and HTML support, and contact level detail and diagnostics eliminate searching in PLC logic. ActiveX support with configuration editor makes it easy to integrate existing software.
---
Original Press Release:

Bosch Rexroth Releases Version 22 Software for System200 CNC and PLC Controls


Company will demonstrate Version 22 at IMTS 2002, September 4-11, at McCormick Place in Chicago, Booth # 4222

The System200 Version 22 software platform from the Electric Drives and Controls division of Bosch Rexroth provides a powerful multi-tasking PLC system with three form factors: PC plug-in cards, compact rack PLC cards, and a soft-PLC running on the IndraView industrial PC. Fieldbus systems such as Interbus, Profibus, DeviceNet (and AS-I in preparation) are supported and provide scalable connectivity to an extensive range of operator panels and compact I/O.

The software's proven ProVi diagnostics have been extended, and are now even more powerful and easier to integrate. Clearly structured messages, multi-language text and HTML support, and contact level detail and diagnostics reduce troubleshooting and eliminate time-consuming searching in the PLC logic. Programming with IndraStep SFC sequencers reduces engineering time while providing automatic diagnostics without the need for text programming.

Version 22 also extends functionality of the WinHMI software for production machines. Now all editors are included, eliminating the need for commissioning software. ActiveX support with configuration editor makes it easy to integrate existing software.

Additionally, a new scalable, easy-to-configure CNC interface, WinMTC, is included in Version 22. Integrated configuration tools enable the fast creation of machine/production-specific screens, or simply use pre-defined screens. This version also enables the user to scale the functionality based on specific needs, using software options such as:

o Management of all preventive maintenance tasks
o E-mail messaging of all ProVi diagnostics to e-mail, pagers, fax, phone. etc.
o Remote maintenance access via dial-up network, Intranet or Internet
o A built-in WebServer for Watch, Control, and Share permits use of a standard browser across all software components
o WinLock - Password protected access to Windows system environment
o IndraStep - PLC sequences with integrated diagnostics and operation mode control
o MPI - PLC controlled data transfer via TCP/IP
o OPC server
o User NC compiler

Finally, the new AddOn software WebMIS provides quick integration and essential machine productivity information in easy-to-understand formats using a standard browser interface.

Bosch Rexroth Corporation, a merger of Bosch Automation Technology and Rexroth, is a wholly owned subsidiary of Robert Bosch GmbH. In the year 2001 the separate companies had total revenues of approximately $3.42 billion (3.86 billion Euros) and a worldwide total of around 26,000 employees. Divisions include Industrial Hydraulics, Electric Drives and Controls, Linear Motion and Assembly Technologies, Pneumatics, Service Automation and Mobile Hydraulics. Bosch Rexroth - The Drive & Control
Company - offers comprehensive solutions for drives and motion control in 80 countries around the world.

Vicky Fisher
Bosch Rexroth Corporation
Electric Drives and Controls
5150 Prairie Stone Parkway
Hoffman Estates, IL 60192
Telephone (847) 645-3712
Fax (847) 645-6210
vicky.fisher@boschrexroth-us.com

Bosch Rexroth Corporation
Joe Biondo
5150 Prairie Stone Parkway
Hoffman Estates, IL 60192
Telephone (847) 645-4073
Fax (847) 645-6201
joe.biondo@boschrexroth-us.com

Bosch Rexroth Corporation, Larry Foy, Corporate Communications
5150 Prairie Stone Parkway, Hoffman Estates, IL 60192, www.boschrexroth-us.com

More from Materials