Smudge-Resistant Transparent Coating Protects Glass, Metal, Plastic and Stone Surfaces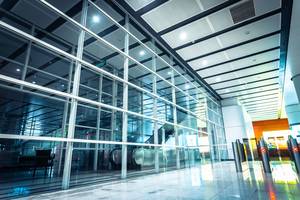 EXTON, Pa., June 8, 2020 – SURECO™ AF 2320 from AGC Chemicals Americas is a transparent fluoropolymer coating that repels dirt, oil and water, minimizes fingerprints, and makes surfaces easier to clean. Because of its versatility, SURECO AF 2320 is ideal for glass, metal, plastic and stone surfaces. It is widely used to protect electronics screens, interior architectural surfaces, interior automotive surfaces, granite countertops and ceramic tiles.
SURECO 2320 coatings minimize smudges and enable easy cleaning without altering the appearance of the object's surface. A thin layer can be applied on a glass or optical surface using a wet process like spray, dip or spin coating or a dry process like vapor deposition. A monomolecular layer (< 10 nm) of SURECO 2320 provides complete, effective surface protection.
Compared to competing products, SURECO 2320 coatings provide superior resistance to heat and abrasion. SURECO 2320 coatings are durable, nonflammable and low friction, so surfaces coated with them are smooth to the touch.
For more information, visit AGC's SURECO 2320 product page.
About AGC Chemicals Americas Inc.
AGC Chemicals Americas is a wholly owned subsidiary of AGC Inc., a $14 billion multinational corporation and one of the world's largest manufacturers of glass, electronic displays and chemical products. The company was formed in 2004 through the merging of sister companies Asahi Glass Fluoropolymers USA and AGA Chemicals. Headquartered in Exton, Pa., including a state-of-the-art technology center, AGC Chemicals Americas maintains manufacturing operations in nearby Thorndale, Pa., a satellite sales office in Sao Paulo, Brazil and warehouses located throughout North America. www.agcchem.com
Media Contact:
Lisa Goetz
Schubert b2b
lgoetz@schubertb2b.com
610-269-2100 x244
Contact This Company Download Spec Sheet
More from Materials