SMT Package Emulator connects 132-pin, 0.5 mm pitch MLF/QFN ICs.
Press Release Summary: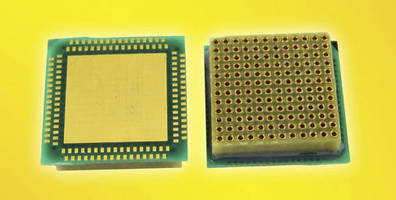 Available for 0.5 mm pitch, dual-row QFN devices, SF-QFN132A-A-01 SMT Package Emulator Foot enables connection to 0.5 mm pitch QFN/MLF pads. Gold-plated pads on bottom precisely match pin layout for MLF/QFN package, including E-pad or heatsink pad in center of pattern, allowing connection to QFN land pattern of target board in order to provide interconnects for probing or connecting to another assembly. Product has same footprint as MLF/QFN 132 pin IC and is 3.0 mm high.
---
Original Press Release:

Tiny Footprint RoHS SMT Package Emulation for 132 Pin, 0.5mm Pitch Dual Row MLF/QFN IC's



Users Can Connect to 0.5mm Pitch QFN/MLF Pads with no extra PCB space using patented SMT emulator foot



EAGAN, MN -- Ironwood Electronics is introducing the SF-QFN132A-A-01 small footprint Surface Mount Package Emulator Foot for 0.5 mm pitch dual row QFN devices. This device uses patented technology to achieve a reliable and small SMT QFN/MLF adapter. The SF-QFN132A-A-01 has pads on the bottom precisely match the pin layout for the MLF/QFN package including the E-pad or heatsink pad in the center of the pattern. This allows connection to a QFN land pattern of target board to provide a set of interconnects available for probing or connecting to another assembly. The user simply solders the SF-QFN132A-A-01 using the same solder reflow and attachment methods used for an MLF/QFN 132 pin IC. The SF-QFN132A-A-01 has gold plated pads for easy RoHS soldering methods. The SF-QFN132A-A-01 is the same size as the MLF/QFN 132 pin IC in the XY dimension and only 3.0 mm high. The top of the SF-QFN132A-A-01 after being attached to the target consists of female, machined socket pins with all gold plating for maximum reliability. Compatible gold plated male pin adapters are then plugged in and emulation, probing, or interconnect of the QFN is accomplished. Other sizes of QFN SMT adapters are available in the same product line from 8-64 pins.



The SF-QFN132A-A-01 is available immediately. The price is $1190 each at quantity 1.



High resolution photo: http://www.ironwoodelectronics.com/press/PressReleasePhotos/C13427a_highres.jpg



Feel free to call or email if you have questions.



Ila Pal, Ironwood Electronics

 

Related