SMT Microprocessor Crystal measures 1.6 x 1.2 x 0.4 mm.
Press Release Summary: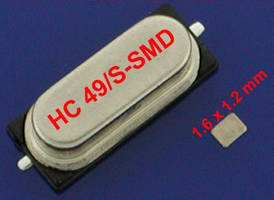 Operating from -10 to +60°C (standard) and -20 to +75°C (extended), Model R1612 comes in surface mount (SMT), ceramic package with automatic processing and reflow capability. Frequency range is 26–60 MHz, with wider usage frequencies of 26, 27, 32, 40, and 50 MHz. Frequency tolerances at room temperature are 15 and 30 ppm, while temperature stability ranges from 10–50 ppm. Size accommodates demands of high-density applications.
---
Original Press Release:

Smallest Microprocessor Crystal Sets New Size Record



Raltron Electronics Corp, Miami, FL has just released its new Model R1612 Microprocessor Crystal at 1.6 x 1.2 x 0.4 mm in size addressing the ever increasing demand for smaller size components



Featuring ultra-small, ultra-thin size; with automatic processing and reflow capability and its excellent use for high density usages, make the R1612 a superior choice for Applications such as: embedded computing devices, cameras, wearable devices, storage, personal digital devices, wireless applications, high density applications, microprocessor and DSP clocks, portable medical devices, alarms and utility metering.



The R1612 surface mount crystal is in a l.6 x l.2 x 0.4mm ceramic package, the smallest size crystal available to date.  This smaller size crystal takes up approximately 50% less surface area than most typical crystals on the market, widening the range of available applications.   The frequency range is 26MHz to 60MHz, with wider usage frequencies of 26, 27, 32, 40, and 50MHz.  The available frequency tolerances at room temperature are l5ppm and 30ppm.  Temperature stability ranges from 10ppm to 50ppm while the operating temperature ranges from -10°C to +60°C standard, to -20°C to +75°C extended.



Sample availability is at a 4 weeks turnaround with quantities currently quoted at $2.00 each in lots of 10 pieces with a 6 – 8 week delivery ARO. For sample requests, technical specification data and specific pricing and delivery information, contact the nearest Raltron office or visit our web site or call direct to:



Raltron Electronics Corporation

10400 NW 33rd Street, Miami, FL 33172

Tel. (305) 593-6033

Fax: (305) 594-3973

Web: www.raltron.com

E-mail: sales@raltron.com



Founded in 1983, Raltron offers a broad range of crystal units and crystal based oscillators, including VCXO, TCXO and OCXO and other frequency control products produced in state of the art manufacturing facilities in Miami, FL and  Asia. Raltron products are sold globally via a network of company sales offices, independent sales representatives, and distributors



Company Contact:

Sasha Wolloch at (305) 593-6033



Press Contact:

Len Cravath at (847) 291-8366

More from Software