SMD Rework System removes, places, and solders BGAs, CSPs, QFPs.
Press Release Summary: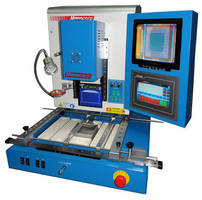 Compatible with delicate SMD packages, BR810 has adjustable PCB holder that accepts PCBs up to 18.5 x 13.8 in. as well as split-vision optics with 22x electronic zoom and focus controls and LED lighting. Additional features include profile settings for independent and programmable top and bottom heating, 5 separate thermocouple inputs, control software, and LCD touchscreen display. Capable of micrometer adjustments, system offers automated Z-axis motion with vertical height sensing.
---
Original Press Release:

Split-Vision SMD Rework System Removes, Places, and Solders BGAs, CSPs, QFPs; Features Five Thermocouple Inputs, Automated Optics



The premier model in Manncorp's line of surface mount rework systems, the BR810 is designed for safe removal, precise placement, and reliable soldering of the most delicate and sensitive SMD packages found in the industry's most challenging board repair applications. Profile settings for independent and fully programmable top and bottom heating, essential for BGAs and chip-scale devices, can be divided into as many as eight separate segments; each with variable heating rate, target temperature, and dwell time. Five separate thermocouple inputs are fully integrated with the BR810 control software and provide the ultimate in real-time temperature feedback for on-the-fly parameter adjustment and pinpoint process control, conformant with solder and component manufacturer specifications. On-board storage capacity for literally thousands of lead-free or leaded temperature profiles allows soldering and desoldering operations to commence at the push of a button on the BR810's attractive LCD touch-screen display.

Automated Z-axis motion with vertical height sensing allows controlled component removal after reflow and then vacuum pick-up of new components from either trays or the BR810's handy component alignment/presentation arm that swings back and forth from preset load and pick-up positions. Split-vision optics, with 22x electronic zoom and focus controls and top and bottom LED lighting, are automatically activated when the component is raised to the inspection position and full-color, super-imposed images of the component leads and the PCB pads are displayed on the LCD monitor. Ultra-fine micrometer adjustments in the X-, Y- and È- axes allow the operator to quickly and perfectly align the component and then activate the placement/soldering sequence without any additional operator intervention.

The BR810's fully adjustable PCB holder accepts large PCBs up to 470 mm x 350 mm (18.5" x 13.8"). A five-zone ceramic IR underheater with programmable power settings, combined with a universal PCB bottom-side support system, prevents board warpage due to thermal gradients. A full range of inexpensive soldering nozzles are available to handle components from 1 mm x 1 mm to 60 mm x 60 mm (0.04" x 0.04" to 2.36" x 2.36"). The system software includes password protected user privileges, as well as temperature curve analysis and screen printing functions via USB port for job/lot traceability. The BR810 operates on 220V, single-phase AC-power and a built-in vacuum generator eliminates the need for an external air source. At $19,995, the BR810 is well below the market price for rework systems of comparable capability. For details, access manncorp.com/rework/br810/, call 1.800. PIK MANN (745.6266) or e-mail sales@manncorp.com.

Manncorp offers pick-and-place machines, stencil printers, reflow ovens, rework systems, wave solder machines, solder pastes, board cleaners, desiccant cabinets and more. Accessing manncorp.com is an informational experience. Not only are full details and specifications provided for the 150+ products, but prices are also attainable immediately after minimal contact information is provided.

Related