Smart Ethernet Switch suits mission-critical operations.
Press Release Summary: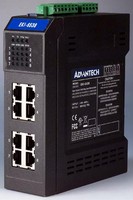 Equipped with eight 10/100Base-TX Ethernet ports, EKI-6538 enables industrial users to implement Ethernet packet switching with control of network performance and security parameters. Switch provides network traffic management, diagnostics, and monitoring as well as virtual LAN segmentation and security features. Suited for plant floor applications, product has dual power input range of 10-48 Vdc, port trunking function, and Web-configurable DIO.
---
Original Press Release:

Advantech Launches a New Category of 'Smart' Industrial Ethernet Switches



The EKI-6538 is an Industrial Ethernet Switch starting at $395.

(Cincinnati, Ohio - 09/20/2006) - The eAutomation Group of Advantech introduces a new category of Industrial Ethernet Switches for mission-critical plant floor applications. Occupying a space in between the inexpensive unmanaged switch and the overly expensive fully managed switch, the EKI-6538 has many features of a fully managed switch at a price comparable to many unmanaged switches.

Equipped with eight 10/100Base-TX Ethernet ports, the EKI-6538 represents a cost-effective solution for industrial customers to implement Ethernet packet switching with easy control of network performance and security parameters. The EKI-6538 has standard industrial features like wide dual power input (10~48 VDC), wide operating temperature (0 ~ 60° C), rugged design, and multiple mounting options. It provides efficient network traffic management, easy traffic diagnostics and monitoring, virtual LAN segmentation, and security enhancements which make the EKI-6538 smarter than unmanaged switches.

The QoS function ensures important data is delivered consistently and predictably. It supports Layer-2 802.1p Priority Queue control to prioritize network packets. Classification of user data priorities can be based on a Priority Queue data packet. The port trunking function combines the bandwidth of multiple ports together to create multi-link load sharing and aggregated bandwidths to a server or network backbone. You can also use port trunking to eliminate bottlenecks between cascaded switches.

The IEE 802.1 tagged VLAN (Virtual LAN) standard improves security and bandwidth utilization by limiting broadcast domains and confining intra-group traffic to their segments. It also helps to go beyond the limitation of physical network topology. To segment the network, supported workstation and servers that are connected to the switch can be grouped into different VLANs.

The EKI provides a quick and easy way of troubleshooting using the diagnostic push button and LED indicators on the front panel. One can easily determine which port has failed, the link condition, transmission rate, and power status when troubleshooting problems in the field. Complex configuration and test equipment are not needed because the specially designed front panel interface helps one quickly confirm whether or not a port has failed.

The network administrator has many diagnostic tools and debugging features to help monitor and control switch performance. Port mirroring can be managed locally or remotely. The administrator can place a protocol analyzer on the port repeating the mirrored data to monitor each segment separately. The analyzer can capture and evaluate the data without affecting the client on the original port. MAC based security can be managed on a per port basis. Traffic flow control includes ingress/egress rate control per port, traffic statistics per port, and broadcast storm protection.

The user can configure two digital inputs and two digital outputs via simple Web configuration. Switch errors can be aggregated into digital signals that drive alarm annunciation equipment in the field.

The EKI-6538 price starts at $395 and is available for purchase directly from Advantech at 1-800-205-7940.

Advantech Corporation, eAutomation Group - Founded in 1983, Advantech is a global leading ePlatform service provider integrating web-based technology, computing platforms and customization services that empower the connected eWorld. Advantech cooperates closely with system integrators to enable them in providing complete solutions for a wide array of applications in various industries. Advantech delivers more than a thousand products and solutions under 3 main categories: Embedded & Applied Computing, Industrial and Network Computing, and eAutomation. With the combined talent of more than 2,000 people, Advantech operates an extensive support, sales and marketing network in 16 countries and 28 major cities to deliver fast time-to-market services to our worldwide customers. US operations for the eAutomation Group, 1320 Kemper Meadow Drive, Suite 500, Cincinnati, OH 45240. Website for Advantech customers in North America: eautomationpro.com/us Email: info@advantech.com

Chuck Harrell
Advantech Corporation, eAutomation Group
(513) 742-8895 x333
website: eautomationpro.com/us

More from Electrical Equipment & Systems