Slim-Fit™ Transfer Conveyors feature V-guided end pulley.
Press Release Summary: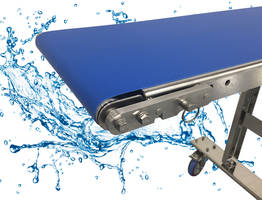 Slim-Fit™ Transfer Conveyors are constructed of stainless steel and can be used in tight or narrow spaces. Units are integrated with center drive and center take-up options. Conveyors come with optional casters and an adjustable height of 30 in. to 48 in. Suitable for hygienic food, beverage and pharmaceutical applications, products are equipped with easy to remove transfer plate and a flip-up end tail.
---
Original Press Release:
Introducing the Slim-Fit™: A breakthrough in Stainless Steel, Tool-less, Hygienic Product Transfer Conveyors
Soon to be an industry standard!
The need for a quality, yet affordable, pre-engineered, hygienic washdown system was the driving force in the design of the Slim-Fit by Multi-Conveyor. The tool-less pin-pull approach allows the operator to remove the belt in mere seconds for routine maintenance.
Simply pull the two end pins
Lift up the end pulley
Lay the pulley on the frame or remove it completely
Slide the belt off
Clean, maintenance or make changes as necessary
Slide the belt back on
Line up the V-Guide on the pulley
Double check the belt is lined up with the V-guide
Reinstall the pins
Voila!
What makes the Slim-Fit different than similar products on the market?
Center drive and center take-up
The strategically placed center drive design keeps balance in the system and uniform depth or width on each conveyor end to fit in tight or smaller spaces.
Simplified motor options
V-guided end pulley
Adjustable height from 30" - 48"
Optional casters
Easy to remove transfer plate
Mirror looking stainless steel finish (#8)
The flip-up end tail maintains tension and tracking - even during maintenance.
and quick delivery!
The tool-less belt removal and washdown stainless steel frame are essential in hygienic food, beverage and pharmaceutical applications.
Slim-Fit, soon to be the industry standard, can be used in tight or narrow spaces for virtually endless product shapes and sizes.
About Multi-Conveyor
Multi-Conveyor has successfully produced standard and custom conveyor solutions for Integrators, OEM's, engineers, designers and end-users across multiple markets and industries for over two decades. Specializing in conveyors that assist in nearly any packaging, processing or material handling application, our customers report they select Multi-Conveyor for concept/design, engineering skills, high-quality product, best value and prompt delivery schedules.
Multi-Conveyor excels in stainless steel and mild steel construction conveyors for table top chains, modular plastic belts, and fabric belting, are licensed to build Intralox ARB solutions, and provide many types of elevators, lowerators and accumulators. We also design and provide the control devices, systems and panels with our in-house control department.
How can we put Slim-Fit to work for you? Call 1-800-236-7960 or visit www.multi-conveyor.com - let's get started on your next project.
Contact:
Cheryl Miller
Director of Marketing
Multi-Conveyor LLC
P O Box 10
Winneconne, WI 54986
1-800-236-7960
Contact This Company Download Spec Sheet
More from Material Handling & Storage