Single-Source Supplier for Wide Product Range Makes Fixturing Simple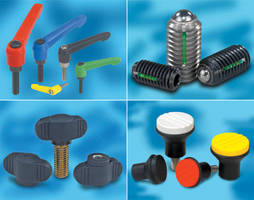 Fixtureworks® (Fraser, MI), leading North American manufacturer and supplier of workholding technologies and machine tool components, now makes available the entire product lineup from Kipp® - one of Germany's premier manufacturers of manual operating elements, actuation mechanisms and handling/securing/positioning components. The extensive offering includes 18 different product categories, and within each grouping is a wide range of options encompassing size requirements, material selections, operational directions, attachment and mounting choices, and ergonomic considerations.

For example, there are 11 styles of pull handles, featuring over 180 different sizes, materials (stainless steel, cast iron, duro- and thermoplastic, aluminum), finishes (powder coat, anodized, natural, matte or polished) and configurations (bow, stirrup-shape, oval, tube). This broad selection and the other expansive product selections allows users-process engineers, fixture and tooling designers, manufacturing engineers, as well as OEM manufacturers-to integrate simple, modular-type components into workholding, machine systems, control units, etc., to create unique solutions meeting applications requirements without special design costs or lead times.

Fixtureworks provides items that, in addition to the pull handles includes tension levers and clamp levers, clamp handles, knurled nuts and knurled thumb screws.

A host of grip configurations, colors and knob styles are available, ranging from palm, wing and star grips to knurled ball knobs that are ideal for locking and securing applications.

There are multiple styles of hand wheels, including spoke and disc units, both with and without handles, or featuring fold away, fixed, or revolving handles-complementing these selections are various machine and crank handle styles for use with the hand wheels or to fill other application needs.

Fixtureworks also carries Kipp's NOVO-GRIP® handle, knobs, wheels and grip line of components. The NOVO-GRIP products incorporate a modern European design and color availability that is replicated throughout the NOVO-GRIP items-knurled knobs, mushroom knobs, ball and five-lobe grips, handwheels and positioning wheels along with crank handles-to establish a constant overall appearance for applications. Other Kipp products offered include 14 styles of spring plungers, plus locking bolts to prevent workpiece positional changes when under lateral forces.

Fixtureworks illustrates the Kipp lineup, and its 20,000-plus other fixturing, workholding and machine components in an extensive catalog, or online at www.fixtureworks.net-with full ordering capabilities and account security.

In addition to Kipp products, Fixtureworks also offers grippers, rest pads, Swivots® swivel/pivoting positioning components, Quick Release ball-lock pins, rollers and bumpers from Fairlane® Products; Imao® clamps, part supports, risers, T-nuts, sliding mounts, springs, grid plates and blocks; OK-Vise® single and double wedge clamp designs; and Modern Industries mPower(TM) product line which includes quick change precision locating and mounting systems and modular tooling, plates and columns.


More from Fasteners & Hardware