Single-Screw Single-Barrel Retrofit supports co-injection.
Press Release Summary: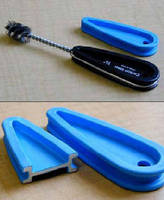 Available as option on new injection molding machines and as retrofit, Twinshot™ System replaces standard screw and barrel with counterparts designed to produce 2-component part in single molding cycle with single screw, single shot, and single recovery. System is limited to A-B-A sandwich structures and cannot be used for hot-runner molding or on equipment with L/D ratios less than 20:1. Within these limitations, Twinshot can process wide range of resin and color combinations.
---
Original Press Release:

Affordable Single-Screw / Single-Barrel Retrofit Makes Cost Savings of Coinjection Achievable on Standard Molding Presses



Also Available on New Machines, Twinshot™ Technology from Nordson XALOY Delivers Many A-B-A Resin Combinations without Costly Investment in Dual-Injection-Unit Systems



NEW CASTLE, PA, U.S.A. —  A patented single-screw, single-barrel equipment package from Nordson XALOY provides the cost-savings and versatility of two-component molding while requiring substantially less investment than more complex coinjection molding systems that use separate injection units, it was announced today by Nordson XALOY.



Called Twinshot™, the Nordson XALOY system replaces a standard screw and barrel with counterparts designed to produce a two-component part in a single molding cycle with a single screw, single shot and single recovery. It is available as an option on new injection molding machines and as a retrofit that can be installed in one or two days. The Twinshot system is limited to simple "A-B-A" sandwich structures and cannot be used for hot-runner molding or on equipment with L/D ratios less than 20:1, but within these limitations it can process a wide range of resin and color combinations and can readily be switched back to single-material molding.        



"While resin typically accounts for well over half of the cost of producing a part, two-component molding makes it possible to optimize the tradeoff between material function and cost by using two different resins instead of one," said Anton Hagen, global product manager for screws and multi-material molding. "The low investment cost of Nordson XALOY's Twinshot system and the ease with which it can be retrofitted make the economic benefits of coinjection molding accessible to more plastics processors. In addition, the system is simpler to operate than coinjection machines with two injection units, takes up less space, and uses less energy."



The advantages cited for Twinshot two-component molding include: confining high-cost specialty material to the skin layer with general-purpose material in the core; using recycled or wide-spec material in the core; combining a structural core with a cosmetic exterior; adding new product value by, for example, combining a "soft-touch" TPE skin with a rigid core; and obtaining the benefits of a foam core (reduction in weight and molded-in stress and elimination of warpage and sink marks) while obtaining a cosmetic surface finish.



As a simplified example of savings achievable with the Twinshot system, Mr. Hagen cited the case of an automotive mirror housing that entailed costs of $5.00 for material and $1.00 for energy. "With coinjection, a 15% savings in material costs is easily obtainable, reducing the resin cost per part by $0.75 and cutting the total cost per part by 12.5%."



How the Twinshot™ Two-Component Molding System Works



The Twinshot system includes a screw with two independent melting zones and a barrel with two feed ports. The skin material is fed into the first port from a standard hopper or volumetric feeder. The core material enters via the second port and is metered into the system by an auger feeder with speed control. Other components are a dual-purpose non-return valve and an Eliminator™ nozzle tip. Layer thicknesses are controlled by the speeds of the primary screw and the auger screw.



The mold cavity fills in a single shot. There is generally sequential injection of the two materials through the same gate (or gates), with some amount of simultaneous injection. The skin material cools against the mold walls as the molten second material fills out the core. The result is a three-layer, or A-B-A, sandwich structure with the B, or core, layer completely encapsulated. The ratio of core to skin depends on the relative viscosity of the materials as well as on part geometry. When using multi-cavity molds, a balanced fill is a necessary condition for optimal use of the Twinshot system. Ideally, the melt front should reach all surfaces of the cavity simultaneously.



A video illustrating the Twinshot process is posted at http://www.xaloy.com/Product-Twinshot-Multi-Material-Molding.



Nordson XALOY, a part of Nordson Corporation's Polymer Processing Systems product offering, is a leading manufacturer of components and melt delivery systems for injection molding and extrusion machinery, producing barrels, high performance screws, preassembled plasticating systems, heat transfer rolls, melt pumps, screen changers, pelletizers, and cleaning ovens, as well as offering advanced process testing and training services. The company draws on more than eight decades of engineering, materials, process, and application experience to develop solutions for optimizing processes, combating wear, boosting output, and improving quality. Nordson XALOY maintains sales and service offices in the United States, Thailand, Japan, China and Europe and a global network of service points and agents. Visit www.nordsonxaloy.com.



Nordson Corporation (Nasdaq: NDSN) engineers, manufactures and markets differentiated products and systems used for the precision dispensing and processing of adhesives, coatings, polymers and plastics, sealants, biomaterials and other materials and for fluid management, test and inspection, UV curing and plasma surface treatment, all supported by application expertise and direct global sales and service. Nordson serves a wide variety of consumer non-durable, durable and technology end markets including packaging, nonwovens, electronics, medical, appliances, energy, transportation, construction, and general product assembly and finishing. Founded in 1954 and headquartered in Westlake, Ohio, the company has operations and support offices in more than 30 countries. Visit Nordson on the web at www.nordson.com, www.twitter.com/Nordson_Corp or www.facebook.com/nordson.

Related