Single-Lane SPDT Switches support 3rd generation PCI Express.
Press Release Summary: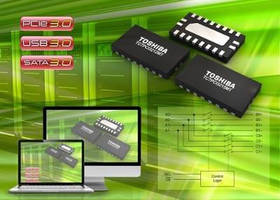 Single-lane, 2 differential channel SPDT bus switch ICs – TC7PCI3212MT and TC7PCI3215MT – support PCIe Gen3 (8 Gbps) and achieve bandwidth characteristics of 11.5 GHz at -3 dB. These characteristics enable high-speed transmission with minimized signal degradation. Also, bandwidth minimizes attenuation of signal amplitude by inserting switch and can pass through GHz high-speed differential signals. Configurations promote optimal arrangements of PCIe slots, connectors, and switches.
---
Original Press Release:

Toshiba Launches New Single-Lane SPDT Switches Supporting 3rd Generation PCI Express



Feature High Speed Switching, Low Signal Degradation, Wide Bandwidth



IRVINE, Calif. – Toshiba America Electronic Components, Inc. (TAEC)*, a committed leader that collaborates with technology companies to create breakthrough designs, today announced the launch of its new single-lane, two differential channel Single Pole Double Throw (SPDT) bus switch ICs. The new TC7PCI3212MT and TC7PCI3215MT support PCI Express (PCIe) Gen3 (8Gbps) and achieve wide bandwidth characteristics of 11.5GHz at -3dB.



The TC7PCI3212MT and TC7PCI3215MT join the previously announced TC7PCI3412MT and TC7PCI3415MT, which are also well suited for circuit design engineers working with third generation PCIe or other high-speed interface applications (including USB 3.0 and SATA 3.0).



The wide bandwidth characteristics achieved by the new bus switches make high-speed transmission with lower signal degradation possible. Wide bandwidth also minimizes the attenuation of signal amplitude by inserting a switch, and can pass through GHz high-speed differential signals. The TC7PCI3212MT and TC7PCI3215MT have optimal configurations for arrangements of PCIe slots, connectors and switches on the motherboards of servers, desktop PCs, notebook PCs and PC peripheral devices.



Toshiba's range of PCI Bus Switches includes:







Item



Symbol



Test condition



Part number



Unit





TC7PCI3212MT
TC7PCI3215MT



TC7PCI3412MT
TC7PCI3415MT





-3 dB Bandwidth (typ.)



BW



VCC=3.3 V, Ta=25 degrees C



11.5



10



GHz





Differential insertion loss (typ.)



DDIL



VCC=3.3 V, f=4 GHz, Ta=25 degrees C



-1



dB





Differential Near-end crosstalk (typ.)



DDNEXT



VCC=3.3 V, f=4 GHz, Ta=25 degrees C



-40



dB





Quiescent supply current (max)



ICC



VCC=3.6 V, OE=VCC, Ta= -40 to 85 degrees C



1



microamperes





VCC=3.6 V, OE=GND, Ta=-40 to 85 degrees C



500



800





Supply volatage



VCC



Ta=-40 to 85 degrees C



3.0 to 3.6



V





Package



--



--



TQFN20



TQFN42



--







CONTACT:

Rebecca Bueno

Toshiba America Electronic Components, Inc.

Tel.: (949) 462-7885

rebecca.bueno@taec.toshiba.com

More from Controls & Controllers