Industrial / Specific Purpose Computers
Single Board Computer fits CompactPCI platform.
Press Release Summary: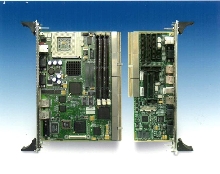 Model CSBC1200 has IPMI rev. 1.5 intelligent platform management interface compliance, and Intel Pentium III or Celeron processor. 3 memory sockets can handle up to 768 MByte of SDRAM. On-board functions include AGP video controller, USB, dual serial ports and single parallel port. Dual 10/100 MByte Ethernet controllers can be configured to interface either through the front or rear RJ45 Ports. Board supports up to 7 CompactPCI slots.
---
Original Press Release:
Versatile New 6U Compact Single Board Computer

BROCKTON, MA - A new full featured CompactPCl® Single Board Computer featuring dual Ethernet controllers and IPMI rev. 1.5 (intelligent platform management interface) compliance is available from CG Mupac. Designated the Model CSBC1200, its exceptional price, performance, and scalability provide a strong foundation for building a cPCI Platform that requires an embedded Pentium based CPU/

The Model CSBC 1200 is a high-speed computer (1 GHz +) powered by either an Intel® Pentium® III or Celeron processor. The Pentium III has 256 KB of on-die L2 cache (the Celeron has 128 KB of on-die L2 cache). The CSBC is supported by the Intel 440BX with a 100 MHz PSB. The CSBC1200 boasts three memory sockets that can handle up to 768 MB of 100 MHz PC SDRAM. Numerous on-board functions include an AGP video controller, USB, dual serial ports and a single parallel port. The dual 10/100 MB Ethernet controllers can be configured to interface either through the front or rear RJ45 Ports. The platform's media devices can be interfaced using the Ultra DMA/33 IDE (33 MB/second) and floppy connectors that are located on the rear I/O. An Ultra2 Wide SCSI (80 MB/second) connector is also located on the rear I/O to provide connection to any Ultra2 Wide SCSI device. The board supports up to seven CompactPCI slots and can be expanded using an optional mezzanine card that provides a second PCI bridge which enables the CSBC1200 to drive up to 14 CompactPCI slots. The optional mezzanine can be configured with a notebook sized floppy and/or hard drive.

Designed to the IPMI specification Version 1.5, the CSBC1200 provides for monitoring of the computer's physical health characteristics. Backplane voltages, CPU temperature, and fan speeds can be monitored locally via the on-board CMOS setup utility. For remote monitoring, a device that is compliant with Version 1.5 can be connected via the IMPI ICMB port located on the rear I/O board.

Other features of the Model CSBC 1200 include the Phoenix Technologies AwardBIOS in boot block flash, supporting software enable/disable of SCSI, video override, serial/parallel port remapping/disable, PCI Bus Scan, and ACPI 1.0/APM 1.2. The unit also supports multilevel PCI-to-PCI bridging and full Hot Swap compliance and provides a programmable two-stage watchdog timer with a battery-backed clock. Standard 11O is through the front panel and rear panel. A two-year limited warranty is standard. Prices start at $1295.00 with deliveries from in stock to 4 weeks.

CG Mupac
CG Mupac, an ISO certified company, designs and manufactures standard and custom Single Board Computers (SBCs), chassis, and integrated system products. The company's experienced teams of design and engineering professionals work closely with customers to provide "total cost solutions" through integrated system designs that meet specific application needs.

CG Mupac is committed to expanding its depth of systems products by investing heavily in design engineering talent and product development software. Coupled with a vertically integrated manufacturing capability, the company has a decided advantage in providing Industrial, Military, Telecom, and Medical customers with the most cost-effective solutions for their integrated electronic systems. The company has design and manufacturing facilities in Brockton, MA; Houston, TX- Garland, TX; Sparks, NV; and Los Gatos, CA.

More from Agricultural & Farming Products