Silver PVD Inserts support ISO-M and ISO-S machining.
Press Release Summary: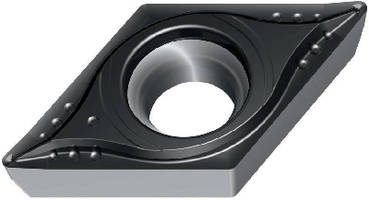 With high temperature wear resistance, Tiger•tec® Silver PVD Coated Inserts are designed for machining stainless steel, high temperature alloys, and other materials that are difficult to machine. Special surface smoothing on rake face minimizes friction, keeping heat generation in check. Available in WSM10S, WSM20S, and WSM30S grades, inserts offer 3 positive geometries: FM4 for finishing operations, MM4 for universal use including 7° and 11° positive rake, and RM4 for roughing operations.
---
Original Press Release:

New Tiger·tec® Silver PVD Inserts from Walter Help Speed Up Machining for Stainless Steel and Other Materials with Difficult-To-Cut Properties



With high temperature wear resistance and excellent toughness, the new Tiger•tec® Silver PVD inserts are an ideal choice for difficult ISO-M and ISO-S machining.



Waukesha, WI – Walter has launched a line of Tiger•tec® Silver PVD coated inserts designed for the efficient machining of stainless steel, high temperature alloys (ISO-M and ISO-S) and other materials with properties making them difficult to machine. The inserts are also effective for some small steel (ISO-P) components in mass production. Machining these materials is challenging, particularly if low cutting force is required, such as when finish turning small, delicate components or boring internal diameters.



The PVD aluminum oxide coating protects the inserts from wear, particularly at high temperatures. And since many ISO-M and ISO-S materials are poor thermal conductors, the heat protection function of the coating is particularly important. The advantage for the user is a significantly longer tool life and higher cutting speed capability. Plus, since the deposition is carried out via the PVD process, which uses lower process temperatures, the fine-grain carbide substrate retains more of its original toughness. Tiger tec® Silver PVD offers both high temperature wear resistance and excellent toughness, and Walter's special surface smoothing on the rake face keeps heat generation in check because it reduces friction. Due to the lower PVD layer thicknesses, very sharp cutting edges are maintained, which is a prerequisite for a soft cutting action or low cutting forces.



With the introduction of the Tiger•tec® Silver PVD inserts, Walter is launching three new PVD grades: WSM10S, WSM20S and WSM30S. These new inserts are available in three positive geometries: FM4 for finishing operations, MM4 for universal use including both 7° and 11° positive rake and RM4 for roughing operations. They are typically used in the medical, chemical, food, aerospace industries and in the automotive sector in applications such as machining turbochargers.



Walter, a global leader in the metalworking industry with over 90 years of experience in precision cutting tools for milling, drilling, turning, boring and specialized tools, helps customers improve process reliability and increase productivity. With Regional Headquarters in Waukesha, WI, Walter markets its competence brands Walter Valenite, Walter Titex, Walter Prototyp and Walter Multiply through a strong network of distributors and field engineers across subsidiaries in the USA, Canada, Mexico, Brazil and Argentina.



For further editorial information contact:

Mark Hemmerling

Director of Marketing

mark.hemmerling@walter-tools.com

More from Computer Hardware & Peripherals