Silicone Hose Labeling System suits sanitary applications.
Press Release Summary: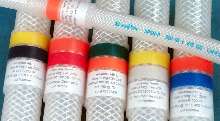 AdvantaLABEL cleanly and clearly identifies silicone hoses by using permanently vulcanized silicone to encase labels on hoses. Label can then be steam sterilized or chemically cleaned without adverse affects. Exterior-mounted system never comes in contact with materials flowing within hose, while smooth, beveled edges prevent particle entrapment on outside of silicone hose. Optional color striping allows processing lines to be quickly identified.
---
Original Press Release:

New AdvantaLABEL(TM) Silicone Hose Labeling System Solves Problems of Sterilizing and Permanence


Eliminates Cleanliness Issues Involved with Metal or Plastic Tags

Southampton, PA-Immediately available from the AdvantaPure(TM) division of NewAge® Industries is AdvantaLABEL, a new silicone hose labeling system made to cleanly, clearly, and permanently identify silicone hoses. AdvantaLABEL is designed for use in industries such as pharmaceutical, biotechnology and biomedical, food and dairy, beverage, cosmetic, and for other sanitary applications.

Metal, plastic, or paper tags used to identify hoses often degrade, obstruct operations, and do not provide an easily cleanable surface. AdvantaLABEL addresses and eliminates these issues. AdvantaLABEL uses permanently vulcanized silicone to encase a label, and color striping if desired, for quick, easy-to-read identification. Because AdvantaLABEL is permanently sealed to the hose in clean silicone, it can be steam sterilized with a steam-in-place (SIP) process or chemically cleaned (CIP) without affecting the label.

Its exterior mounting means AdvantaLABEL never comes in contact with materials flowing within the hose, so there's no chance of contamination. And AdvantaLABEL's smooth, beveled edges prevent particle entrapment on the outside of the silicone hose.

AdvantaLABEL is configured to meet each customer's specific needs. Labels can be used to identify part or line numbers, dates of manufacture, planned hose replacement dates, contents, pressure or temperature limits-whatever the customer requires. The optional color striping allows processing lines to be quickly identified. Single colors or dual-color combinations are available in red, orange, yellow, green, blue, purple, brown, black, gray, and white.

For more information on the AdvantaLABEL Silicone Hose Labeling System, contact the Sales Team at AdvantaPure(TM), 145 James Way, Southampton, PA 18966; phone 888-755-4370 or 215-526-2151; fax 888-258-4293 or 215-526-2167; e-mail: sales@advantapure.com; Web site: www.advantapure.com.

About AdvantaPure and NewAge® Industries

AdvantaPure, a division of NewAge Industries, specializes in ultra-clean products used in the pharmaceutical, biomedical, food, and cosmetic industries. All products are manufactured, stored, and shipped using the cleanest methods possible to ensure unsurpassed product purity for the customer.

In business since 1954, NewAge Industries is a manufacturer and fabricator of thermoplastic and thermoset tubing and hose, and a private-brand master distributor of fittings and clamps. The company offers one of the broadest product lines of tubing, hose, and fittings in the U.S., and its custom extrusion and fabrication services are unrivaled.

NewAge Industries AdvantaPure(TM) and AdvantaLABEL(TM) are trademarks of NewAge® Industries, Inc. o Purity in Fluid Flow Systems(TM) is a service mark of NewAge Industries AdvantaPure o NewAge® is a registered trademark of NewAge® Industries, Inc.

More from Fluid & Gas Flow Equipment