SikaBond-T21 Wood Floor Adhesive Now Exhibits an Elongation Break at 270%
Press Release Summary: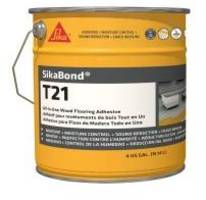 SikaBond-T21 Wood Floor Adhesive is designed to provide protection against moisture, sound control and crack bridging. The product is suitable over concrete and subflooring types.
---
Original Press Release:
SikaBond-T21 to Provide Unlimited Moisture Vapor Protection
Lyndhurst, New Jersey – Sika Corporation is proud to announce that its All-in-One wood floor adhesive, SikaBond-T21, is providing unlimited moisture vapor protection.
Thanks to the urethane expertise of Sika, SikaBond-T21 provides wood flooring installers with an unlimited, efficient and sustainable solution against moisture.
This All-in-One Wood floor adhesive offers moisture protection, sound control, crack bridging and can bond engineered and solid wood over concrete and on most other subflooring types. With an elongation at break of 270%, SikaBond-T21 allows planks to expand and contract without damaging the adhesive bond.
"SikaBond-T21 has been on the market since 2011 and has helped hundreds of wood flooring installers to protect the wood from concrete moisture migration. By providing unlimited moisture vapor protection, SikaBond-T21 not only helps installers save time on their job but also provides the assurance that the product will perform in even the most challenging environments" said Mike Croes, VP of Interior Finishing.
About Sika: Sika is a specialty chemicals company with a leading position in the development and production of systems and products for bonding, sealing, damping, reinforcing and protection in the building sector and automotive industry. Sika has subsidiaries in 101 countries around the world and manufactures in over 200 factories. Its more than 18,000 employees generated annual sales of CHF 6.25 billion in 2017.
Contact:
Marlene Morin
Phone: +1 201-364-8244
Email : morin.marlene@us.sika.com 
More from HVAC