Signature Enclosures Offers Insulated Instrument Enclosures to Protect Equipment from Heat & Cold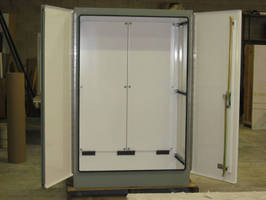 Signature Enclosures, Inc has been providing enclosures to industry since 1987. Insulated Enclosures help protect instruments, electronics and equipment from extreme heat & cold. Applications for insulated enclosures include:

o Waste Water Treatment

o Chemical Processing

o Petroleum and Gas

o Water Conditioning

o Sewage Treatment

o Instrumentation and Communications

Applications requiring additional protection for equipment from adverse weather in temperatures ranging from tropical heat to polar cold, will find our insulated enclosures essential. The typical laminate using 1" urethane foam insulation is encapsulated between smooth interior and exterior skins, and has an R factor of 8. The NEMA 4X fiberglass enclosures are available with single or double doors, while the NEMA 3 fiberglass enclosures are available with single or double overlapping doors, allowing for easier access during installation and maintenance. These enclosures can be equipped with air conditioners, heaters, and purging systems. The non-metallic materials are lighter in weight, non-conductive, fire retardant, impact resistant and corrosion resistant. The marine grade gelcoats used in the laminate are durable in all weather conditions, and are UV resistant. A wide range of color choices is available.

CONSTRUCTION SPECIFICATIONS:

o Laminate: Class 1 fire retardant resin Gelcoat marine grade, light gray exterior/white interior 1" urethane foam insulation

o Hardware: Stainless steel continuous hinge Stainless steel handle w/3 point latching system

o Gasket: EPDM rubber

Our entire line of fiberglass enclosures can be insulated at your request.

About Us:

Our roots in the fiberglass industry reach back over more than 50 years. For the past 25 years, we have specialized in the manufacture of fiberglass enclosures for numerous industrial applications. More recently, our customer base has widened to include those in the instrumentation field. Our customers' search for a reliable manufacturer with a high quality product has led to Signature Enclosures' reputation as the premier source for fiberglass enclosures. Our motto is, "It's our job to make you look good in the marketplace."

We will customize our standard line to meet your individual needs, with astonishing turnaround speed from your PO to delivery at your facility. Modifications and alterations are our expertise. Your price will be based on our standard line, not as a "special order", so there is never sticker shock with Signature Enclosures.
There is no charge for engineering, as we work in partnership with you to design your unique product. You save additional time and expense because all of our tooling is done in-house. We use the highest quality materials in the industry, including all stainless steel hardware. All enclosures can be color-matched to reflect your corporate image.

We accept Visa and MasterCard. For more information, call 800-462-7126, email signature_enclosures@verizon.net, or visit our website www.signature-enclosures.com.


More from Architectural & Civil Engineering Products