Signal-Conditioner Module offers dual channels.
Press Release Summary: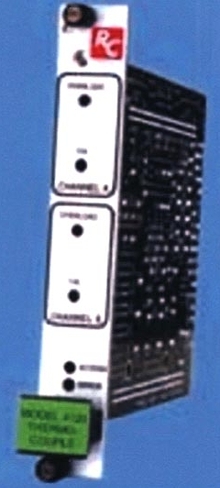 Test Friendly(TM) Dynamics Model 4120 provides 40kHz signal amplification, non-linearity correction, and cold-junction compensation for conversion of millivolt output of thermocouple into 0 to 10 V signal, linearly proportional to temperature. Programmable voltage reference is provided for internal self test and automated user calibration functions. Each channel can be configured for use with any of 8 thermocouples with 12 temperature ranges from -100 to +1750 deg C.
---
Original Press Release:
New Programmable Module Features Linearized Thermocouple Conditioner That Supports Eight Thermocouple Types and 12 Temperature Ranges in a Dual Channel Module

Versatile signal conditioner provides flexibility for applications where the thermocouple type or temperature measurement range needs to be easily reconfigured. Product includes automated self test and calibration to onboard reference with either local or remote cold-junction compensation.

Santa Barbara, CA - April 24, 2002 - R.C. Electronics introduces the newest addition to their highly successful "Test Friendly(tm)" Dynamics 4000 signal conditioner series. The model 4120 Linearized Thermocouple Conditioner is a dual-channel module that provides signal amplification, non-linearity correction and cold-junction compensation for the conversion of the millivolt output of a thermocouple into a 0 to 10V signal that is linearly proportional to temperature. In addition, a programmable voltage reference is provided for internal self test and automated user calibration functions. Visual indications of the system's operation during testing are provided by Output Overload Fault and Mode LEDs.

Priced at less than $480.00 per channel when configured in a 32 channel chassis, the flexibility of the model 4120 makes it ideally suited for applications where the test sensors are subject to change prior to the instrumentation. The Dynamics 4120 can be incorporated into automotive and aerospace engine tests, including rocket engines. The product can also be used in military applications, such as vehicle testing on tanks and armored vehicles.

Flexibility
With the ability to configure each channel individually for use with any of eight thermocouple types with 12 temperature ranges, the 4120 is ideal for applications that require versatility. Type B, E, J, K, N, R, S and T thermocouples are supported covering a range from -100 degrees Celsius (Type J or T) to more than 1750 degrees Celsius (Type R or S). Linearization and gain coefficients are stored in onboard memory allowing for ease-of-customization to other non-linear functions, temperature ranges or thermocouple types.

Like all R.C. Electronics' "Test Friendly" instrumentation, the
Dynamics 4120 can be programmed through the front panel keypad or
remotely by computer using the standard RS-232 serial communications port. To simplify the setup of a large number of channels, the 4120 features Zero and Calibrate functions. The Zero function provides the ability to determine the baseline noise. The Calibrate function applies a simulated reference temperature (100° increments within the selected thermocouple temperature range) to the input of the selected channel to
allow a quick check of amplifier gain accuracy.

Remote cold-junction compensation allows for the use of an isothermal block for the thermocouple connection terminals with standard wire cabling back to the signal conditioning chassis.

Accuracy
While specifying +/- 0.1% gain accuracy (including non-linearity
correction and cold- junction compensation) the model 4120 can resolve temperatures within fractions of a degree C (typical resolution of 0.5°C for a Type J thermocouple). With a wideband amplifier response of 40kHz, the model 4120 is ideally suited for the measurement of the rapidly fluctuating temperatures found in rocket engine or combustion testing. When slower fluctuations are anticipated, user selectable 1Hz, 10Hz or 100Hz filters may be used to further enhance system accuracy.

A cold-junction compensation circuit corrects for voltage errors
created at the thermocouple connection terminals over a range of -50° to 150°C.

Value
The Dynamics 4120 is manufactured with high quality potentiometers, switches and electronic components for extended product life and operation over wide temperature ranges. Further enhancing the value is the ability to interchange all Dynamics 4000 series modules within the same chassis for the support of multiple transducer types.

About R.C. Electronics Inc.
Founded in 1981, R.C. Electronics provides a broad range of data
capture and analysis hardware and software. The company's test and measurement products are used in diverse applications including testing, aerospace, automotive, industrial and life sciences. For further information, contact Jay Giles, vice president of sales, R.C. Electronics Inc, 6464 Hollister Ave. Santa Barbara CA, 93117-3110; telephone 805-685-7770; fax 805-685-5853; e-mail jay@rcelectronics.com, or visit the company's web site at www.rcelectronics.com.

More from Laboratory and Research Supplies and Equipment