Side Stream Assembly measures corrosion/process parameters.
Press Release Summary: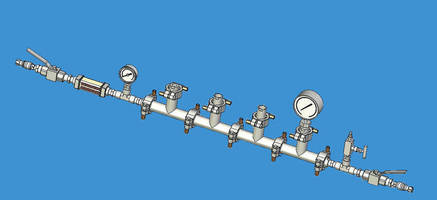 Ensuring piping assets are monitored against underprotection from corrosion damage, Cosasco® Side-Stream Assembly monitors parameters such as metal loss, corrosion rate, erosion rate, pressure, temperature, flow, and bacterial activity. Multiple 1 in. tees are included, which can be configured with Microcor® corrosion/erosion rate measuring, Corrater® LPR and galvanic measuring, Bio-probes, and process parameter measuring systems. Corrosion/process data is provided within minutes.
---
Original Press Release:

Rohrback Cosasco Launches New Cosasco® Side-Stream Assembly for Measuring Corrosion and Process Parameters & Reducing Corrosion Control Costs



Corrosion inhibitor and maintenance costs can be reduced significantly with the new Cosasco® Side-Stream Assembly for corrosion monitoring. The Side-Stream Assembly maximizes corrosion inhibitor efficiency, paying for itself in approximately one year through corrosion inhibitor savings - enabling companies to stop wasting money on over-protection.

This corrosion monitoring system ensures piping assets are properly monitored against under-protection from corrosion damage. The Side-Stream Assembly provides quality and reliability system in a cost-effective, flexible, and adaptable configuration.

The Cosasco® Side-Stream Assembly installs quickly to provide metal loss, corrosion rate, erosion rate, pressure, temperature, flow, and bacterial activity in pipelines. Configured to meet specific commercial requirements, the Assembly includes multiple, easily connected 1" tees. Each tee is configured with a choice of the following corrosion management and process monitoring technologies. Customization of the corrosion monitoring system that can include:

o Microcor® corrosion and erosion rate measuring

o Corrater® LPR and galvanic measuring

o Bio-probes

o Coupons

o Process parameter measuring

Results are immediate, with improved, and economical asset management with the Cosasco® Side-Stream Assembly:

o Reduces corrosion inhibitor use enough to pay for itself, typically within one year

o Quick ship

o Quick installation; no plant shutdown required

o Provides corrosion and process data within minutes instead of days

o Easy to use for corrosion management

o First costs much lower than conventional systems

o Flexible configuration; multiple corrosion and process monitoring options

o Easily moved to the next test location

o No plant shutdown required for installation

o Measures multiple process parameters including temperature, pressure, and flow rate

Some Corrosion inhibitors are effective but must be delivered at the proper rate. The price of over-protection against corrosion is high, but the consequences of under-protection against corrosion can be catastrophic. Given existing budget constraints, it is important to effectively control corrosion inhibitor program costs.

The Cosasco® Side-Stream Assembly provides reliable corrosion monitoring while maximizing corrosion inhibitor efficiency. The result is immediate, improved, and economical asset management.

About Rohrback Cosasco

Rohrback Cosasco specializes in a complete range of Industrial Corrosion Control Management & Monitoring Solutions. Corrosion equipment is used for a range of internal corrosion monitoring, atmospheric monitoring, remote monitoring, downhole corrosion monitoring, rouge monitoring, erosion monitoring, and scale in water monitoring. Rohrback Cosasco is the known globally as the OEM for the following product brands Microcor®, Cosasco®, Corrosometer®, Corrater®, Corrdata® and Ultracorr®.

Additional corrosion Services include asset preservation consultancy, remote monitoring and data collection, field services inspection, maintenance and training.

These corrosion control products & services commonly used in oil and gas, petrochemical, water treatment, chemical, pulp and paper, and pharmaceutical industries. The company is ISO 9001: 2008 certified; the products conform to CE and ATEX standards.

For more information, please contact Rohrback Cosasco at sales@cosasco.com, tel: +1(562) 949-0123 ext 213, or email Kathleen Rosario KRosario@cosasco.com.

More from Electrical Equipment & Systems