Side Clamps offer up to 10,340 lb clamping force.
Press Release Summary: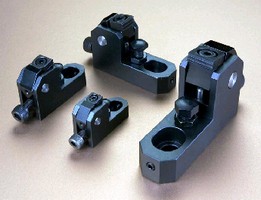 Securely holding workpieces by applying simultaneous lateral and downward clamping forces to sides, Imao® Clamps provide unobstructed access to entire top surface for machining operations in single setup. Jaws provide straight or diamond-serrated gripping surfaces. Manufactured from alloy steel with black oxide finish, side clamps are operated by means of hex socket ball screw; clockwise turn of screw forces clamp jaw forward and downward to hold workpiece.
---
Original Press Release:
Range of Side Clamp Styles Expands Fixturing/Workholding Line
Fixtureworks (Fraser, MI), a leading supplier of Imao® clamps, modular fixturing and set-up accessories, now features the full complement of Imao Side Clamps to broaden its wide-ranging product offering of workholding and fixturing technologies. The various side clamps offered are designed to securely hold workpieces by applying simultaneous lateral and downward clamping forces to the sides of the workpiece, thus providing unobstructed access to the entire top surface(s) for machining operations in a single setup. Among the more than 30 side clamp configurations available from Imao are center mount pieces with integral adjustable work support that minimize clamping space requirements and allow for greater machine clearances. Also offered are side clamps with side mount design; side mount with wide, swiveling jaws for clamping on uneven surfaces; rear mount clamps, plus low profile side clamps, and adjustable side and toe clamps. The jaws of the clamps provide either straight or diamond-serrated gripping surfaces, and side clamps offer up to 10,340 lbs. clamping force, and up to 8,990 pounds among the low profile toe clamp styles. The side clamps are manufactured from quality alloy steel with a black oxide finish. The Imao side clamps are operated by means of a hex socket ball screw-a clockwise turn of the screw forces the clamp jaw forward and downward to hold the workpiece; counterclockwise releases it. Fixtureworks also offers two sizes of the Imao One-Touch Side Clamp, featuring a quick-lock, quick-release handle actuation, ideal for repetitive clamping work with modest working loads. A simple 45° rotation of the handle moves the jaws forward and down to apply clamping forces of up to 900 lbs. Reversing the clamp handle position pulls the jaws back, away from the workpiece for easy removal and insertion. Besides the side clamp lineup, Fixtureworks also offers Imao® cam, push, pull, swing, hook, and strap-style clamps along with a wide variety of locating and support accessories. In addition, Fixtureworks is a leading, single-resource for a wide array of fixturing, workholding and accessory components. Other representative products include Kipp® spring plungers, handles, levers, knobs and hand wheels; OK-Vise® fixturing clamps; Mitee-Bite® low-profile edge clamps; and Fairlane Products® rest pads, grippers, Swivots,® Quick Release Ball Lock Pins and bumpers. Direct inquiry requests to: Mark Gordon Fixtureworks 33792 Doreka Fraser, MI 48026. Tel: 586.294.1188 Toll Free: 888-794-8687 Fax: 586.294.4843 Online: www.fixtureworks.net Email: info@fixtureworks.net
More from Electrical Equipment & Systems