Shredder handles highly abrasive materials.
Press Release Summary: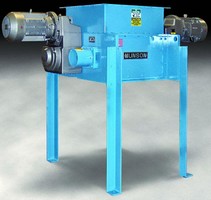 Maxum 30 employs two 14 in. dia, counter-rotating shafts that operate at 25-35 rpm to grind up to 2 x 2 x 6 ft, 1,600 lb blocks of material into uniform particles from 1/32-1½ in. as determined by diameter of bed screen perforations. Each of its 2 rotors is configured with staggered array of treated, solid carbide, conical tips that have interference fit into receiver slots for rapid replacement. Machine can produce up to 240 ft³ of sized product per hour.
---
Original Press Release:

Abrasive Material Shredder



UTICA, NY - new Maxum 30 shredder from Munson Machinery shreds blocks up to 2 ft x 2 ft x 6 ft (610 x 610 x 3658 mm) of highly abrasive materials into particles of narrow size ranges with minimum fines, according to Charlie Divine, marketing manager of Munson Machinery.

Each of two rotors is configured with a staggered array of specially treated, solid carbide tips, similar to those used on road shredding machines.

The conical tips have an interference fit into receiver slots for rapid replacement.

Driven by two 20 HP (15kW) motors, the counter-rotating shafts can grind 1600 lb (726 kg) blocks of highly abrasive materials into uniform particles within narrow size ranges determined by the diameter of bed screen perforations which range from 1/32 to 1-1/2 in (0.79 to 38 mm), says Divine.

The two 14 in (355 mm) diameter shafts rotate at 25 to 35 rpm, producing up to 240 cu ft (6.8 cu m) of sized product per hour, depending on material.

The cutter reportedly handles highly abrasive materials such as composites of alumina oxide, asphalt and resin used to manufacture hard disc abrasive cut-off wheels.

Material is fed through the top intake chute and discharge is via gravity, pneumatic transition or independently powered belt or screw conveyor.

The unit is equipped as standard with two direct-coupled shaft-mounted gear reducers.

Also offered are Maxum Shredders built to fit customer specified applications.

Other size reduction equipment manufactured by the company includes screen classifying cutters, centrifugal impact mills, rotary de-clumpers, attrition mills and hammer mills. Blending equipment for dry bulk materials includes rotary batch mixers, continuous rotary blenders, high intensity blenders, and ribbon, paddle and plow blenders.

For information contact Munson Machinery Company, Inc., 210 Seward Ave., Utica, NY
13503-0855, 800-944-6644, info@munsonmachinery.com, www.munsonmachinery.com

More from Controls & Controllers