Industrial / Specific Purpose Computers
Shelf Manager Board targets AdvancedTCA products.
Press Release Summary: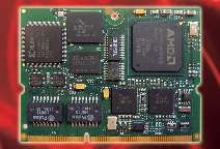 IPM Sentry ShMM-500 enables interoperable management of open modular platforms based on Intelligent Platform Management Interface standard. Using MIPS-32 based AMD Alchemy Au1550 System-on-Chip, ShMM-500 facilitates shelf and board start-up and event processing, responsive interaction with external system managers, and capacity to host layered applications. With SO-DIMM form-factor, unit can be mounted in variety of locations and orientations within subrack.
---
Original Press Release:

Pigeon Point Systems Announces 7x Speed Enhancement For Market-Leading AdvancedTCA Shelf Manager


Scotts Valley, CA, March 2005 - Pigeon Point Systems(TM), the leading supplier of shelf and board management solutions for AdvancedTCA®, announces the introduction of the next generation of its successful IPM Sentry(TM) Shelf Management Mezzanine (ShMM) product line. Known as the IPM Sentry ShMM-500, it offers a dramatic performance boost over the market-leading ShMM-300 to provide faster shelf and board start-up and event processing, more responsive interaction with external system managers and the capacity to host layered applications.

The ShMM-500 is a member of Pigeon Point Systems' IPM Sentry family of hardware and software products that enable cost-effective, interoperable management of open modular platforms based on the Intelligent Platform Management Interface (IPMI) standard. Using IPM Sentry components, developers of AdvancedTCA and CompactPCI® products can quickly and efficiently incorporate compliant, competitive and interoperable management solutions. More than forty-five companies around the world, including Motorola and Sun Microsystems, are already taking advantage of IPM Sentry components at the shelf level, board level or both.

Using the new MIPS-32 based AMD "Alchemy" Au1550 System-on-a-Chip (SOC), the ShMM-500 boasts a 7x CPU speed enhancement, 4x SDRAM capacity boost and 2x Flash capacity increase, compared to the ShMM-300. In addition, the ShMM-500 includes hardware and firmware support for reliable remote upgrades to its firmware. When this feature is configured, if a firmware upgrade attempt fails, hardware automatically falls back to a redundant copy of the firmware.

The ShMM-500, with its SO-DIMM form-factor, is fully backward-compatible with the ShMM-300 and can be used as a drop-in replacement in existing systems. The ShMM-500's small size and low power dissipation of less than 5 Watts means that it can be mounted in a number of locations and orientations within a subrack.

"Sun is taking an aggressive approach in developing and deploying an advanced ATCA blade server offering, leveraging our successful cPCI and cPSB Netra products," said Raju Penumatcha, vice president of Netra Systems and Networking (NSN), Sun Microsystems. "Pigeon Point Systems' industry-leading ShMM technology ensures that we can deliver widely used, compliant and interoperability-tested shelf management facilities. The dramatically increased capacity of the ShMM-500 allows it to host our standards-based Managed Object Hierarchy software, creating a redundant, highly reliable ATCA system management architecture that reduces operation, administration and maintenance (OAM) development costs and time to market."

"The introduction of this higher performance shelf manager demonstrates the benefits of having an ecosystem of innovative companies collaborating around industry standards such as AdvancedTCA," said John Fryer, director of marketing, Embedded Communications Computing Group, Motorola. "These companies provide key building blocks for our Application-Enabling Platforms that give leading telecom equipment manufacturers faster time-to-market, lower cost and investment protection for their next-generation products."

For new designs, the ShMM-500 enables additional features such as Ethernet connections to both redundant AdvancedTCA base hub boards in a shelf, resulting in better availability for the shelf manager function. Like all the IPM Sentry ShMM products, the ShMM-500 is also available in an IPM Sentry Shelf Management Starter Kit to help OEMs integrate ShMM technology into their own shelves. The Starter Kit includes schematics, bench-top hardware and complete product support to build ShMM-500-based AdvancedTCA Shelf Managers to suit specific applications and shelf designs.

OEM 1,000-unit pricing for the ShMM-500 is $350. The Starter Kit is priced at $5,000. Production deliveries of the ShMM-500 are scheduled for late Q1, 2005.

For additional information, contact Mark Overgaard, Pigeon Point Systems, Tel: 831-438-1565; mark@pigeonpoint.com; pigeonpoint.com; product briefs: http://pigeonpoint.com/downloads.htm#productbriefs.

About Pigeon Point Systems
Pigeon Point Systems (PPS) provides products and services that enable cost-effective management of standards-based platforms-including AdvancedTCA, AdvancedMC (AMC), CompactTCA and CompactPCI-and is a leader in the definition of those platforms. With its IPM Sentry shelf management products, PPS offers the first shelf management building blocks that compatibly support AdvancedTCA and CompactPCI, with similar support for CompactTCA to come. The IPM Sentry board management products-also the first off-the-shelf offerings in the industry-enable compact, cost-effective management subsystems for boards and other FRUs, including AdvancedMC (AMC) carriers and modules. PPS, an executive member of PICMG, is a leader in the AdvancedTCA, AdvancedMC and CompactTCA subcommittees and is active in many other technical subcommittees. PPS is also a contributing member of the Service Availability Forum. For more information about PPS, visit their web site at www.pigeonpoint.com or call their headquarters at 831-438-1565.