Industrial / Specific Purpose Computers
SFF Fanless/Ventless IPC combines performance and rugged design.
Press Release Summary: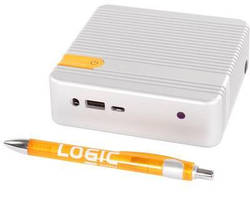 Applicable for industrial, commercial, and consumer use, ruggedized CL100 Series features solid-state design and all-metal construction. This Wi-Fi® and Bluetooth® capable, small form factor (SFF) industrial PC (IPC), based on quad-core Intel® Celeron® N3150 CPU with onboard Intel HD Graphics, supports up to 16 GB of RAM and can power triple independent displays or accommodate 4k resolution. Connectivity includes 3 USB 3.0, USB Type C, 2 HDMI, DisplayPort, and Gb LAN.
---
Original Press Release:

Logic Supply to Unveil Ultra-Compact Mini-PC at Digital Signage Expo



The CL100 Series, based on Intel's NUC platform, is completely ventless and contains no moving parts.



SOUTH BURLINGTON, VT

Industrial & Embedded computer manufactuer Logic Supply (www.logicsupply.com) will introduce a new, small form factor, fanless, and ventless industrial PC at this year's Digital Signage Expo. Built around Intel's popular Next Unit of Computing (NUC), the CL100 Series is aimed at the industrial market, but includes a range of features well-suited to both commercial and consumer applications. The new computer joins the company's growing line of ruggedized, purpose-built devices which offer enhanced reliability due to their solid state design and all-metal construction.



Logic Supply CL100 Mini-PC

"We work with a wide array of digital signage clients who are constantly sharing feedback about the type of hardware they need to best deliver their message," says Logic Supply Solution Specialist Justin Ballard, who will be on hand at DSE 2016 to present the CL100, and the rest of Logic Supply's Digital Signage Line, to attendees. "In developing the CL100 we wanted to create a device that could be installed virtually anywhere and provide reliable content delivery. The CL100 is a great compact digital media player, but it's also flexible enough that it can be used for a host of other embedded and IoT applications."



Developed with feedback from Logic Supply's large network of industrial PC (IPC) users, the CL100 features a Quad-Core Intel Celeron N3150 processor with onboard Intel HD Graphics. The system can power triple independent displays, or accommodate 4k resolution, making it ideally suited for digital signage, kiosk and other multimedia applications. Connectivity includes 3x USB 3.0, USB Type C, 2x HDMI, DisplayPort, and Gb LAN. The CL100 can be configured with up to 16GB of RAM and is WiFi and Bluetooth capable. Operating system options include both Windows and Ubuntu Linux.



The CL100 utilizes Logic Supply's unique Hardshell™ Fanless Technology, which combines proprietary solid state cooling, ingress protection and ruggedization to create dependable industrial computers.



"Our clients demand more from our computers than your everyday, consumer-grade equipment could handle," Ballard said. "Our hardware is used in environments that would cripple most PCs, everything from sawdust filled woodshops to extreme-temperature manufacturing facilities. In these type of industrial settings, computer downtime can be extremely costly, so we build systems with reliability always front of mind. The CL100 builds on that theme while remaining compact, versatile and aesthetically pleasing."



The Logic Supply CL100 will be unveiled at this year's Digital Signage Expo in Las Vegas, Nevada taking place March 16th and 17th at the Las Vegas Convention Center. The system will be on display at the Logic Supply exhibit, booth #2940. Click here to schedule a time to speak with the team at DSE. For more information, full specifications and to sign up for release date and pricing information visit the CL100 Series page.



About Logic Supply:

A leading industrial PC company, Logic Supply designs rugged, highly-configurable computers specifically engineered for reliability. In addition to its extensive product line, the company offers custom product development and an end-to-end OEM service program. Logic Supply serves a variety of industrial and embedded markets and has offices in the US, the EU and Taiwan. The company provides a next-generation hardware solution that offers customers speed, dependability, and value. Visit www.logicsupply.com for more information..



Media Contact:

Darek Fanton

35 Thompson St. South Burlington, VT

802-861-7443

marketing@logicsupply.com

Related