Seven Foot (7') Side Grip Elevation Conveyor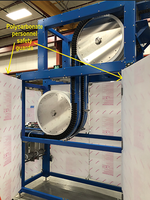 Winneconne, WI - Multi-Conveyor (www.multi-conveyor.com) -  Multi-Conveyor recently built a mild steel, "S-style", side grip elevator - or "Gripper" - designed to transport filled, capped bottles of oil, to an over seven foot (7') elevation from infeed to discharge.
Grippers are comprised of two parallel conveyors mounted side-by-side, with the Neoprene gripper bulb chains facing one another. Grippers can  elevate, lower or buffer product in between infeed and discharge conveyors. Products as fragile as an egg are conveyed with complete control during the elevation, curve and transport process.
As you'll see in the video, hinged, polycarbonate personnel safety guards were mounted safety and easy access. A digital hand wheel can easily adjust and track the gripper width by job or product. The  white link indicates where the base roller chain connecting point is located for disassembly or maintenance.
Grippers commonly come in both C-Style and S-Style configurations. See even more videos on grippers and all of our conveyor technologies by simply visiting https://www.multi-conveyor.com/multi-media-center/videos/emodule/602/egallery/3.
About Multi-Conveyor
Multi-Conveyor is a leading manufacturer of standard and custom conveyor solutions for End-Users, Integrators, Engineering firms, OEM's and Contract Packagers across multiple markets and industries. Specializing in conveyors that assist in packaging or material handling for nearly every industry. Multi-Conveyor excels as food conveyor sanitation experts, making 3A Dairy, WDA, FDA and BISSC compliant systems on a regular basis..Our customers report they select Multi-Conveyor for concept/design, engineering skills, quality product, best value and prompt delivery schedules.
Multi-Conveyor excels in stainless steel and mild steel construction conveyors for table top chains, modular plastic belts, and fabric belting. We also design and provide the control devices, systems and panels with our in-house control department. All of these construction designs and technologies can be found on our website at www.multi-conveyor.com.
Click these links to learn more about Grippers. For more information about Multi-Conveyor for your editorial or publication purposes, please e-mail questions to cmiller@multi-conveyor.com.
YouTube link:  https://youtu.be/YUzFJL0asQM
Contact Info For Publication:
Multi-Conveyor LLC
P O Box 10
Winneconne, WI 54986
1-800-236-7960
info@multi-conv.com
www.multi-conveyor.com
PR Contact Non-Publication:
cmiller@multi-conv.com
More from Material Handling & Storage