Serial Converters suit industrial networking applications.
Press Release Summary: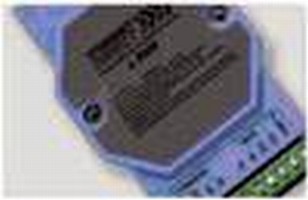 Model RUS-9510A RS-422/RS-485 isolated high speed repeater and Model RUS-9520A RS-232 to RS-422/RS-485 converter overcome limitations of RS-232 protocol by using different voltage lines for data and control signals. Model RUS-9520A is also equipped with AutoPro function that configures RS-422/485 baud rate without setting external DIP switches. Model RUS-9530 expansion module connects to PC USB port or hub to provides RS-232/RS-422 or RS-485 jumperless serial port.
---
Original Press Release:

Ethernet Direct Introduces High Quality Yet Cost Effective Industrial Serial & Industrial USB Converters



Taipei, Taiwan, 15 November, 2006 - Ethernet Direct Corporation, a professional and primary provider of Industrial Networking and communication solutions, is offering Retriever Series Serial Converters with high quality but cost effective to convert serial/Ethernet signals without any modification to the connected PC's hardware or software.
The Retriever Series Serial Converter is comprised of 3 models:

RUS-9510A       RS-422/RS-485 Isolated high speed repeater

RUS-9520A       RS-232 to RS-422/RS-485 converter with "Autopro"

RUS-9530        USB to RS232/422/485 Module

RUS-9510A and RUS-9520A allow users to overcome the limitations of the RS-232 protocol, including speed, range and networking capabilities, by using different voltage lines for data and control signals. It is equipped with built-in 'AutoPro' function which enables the converter to automatically configure RS-422/485 baud rate without setting external DIP switches.

RUS- 9530 converter is an intelligent, industrial type expansion module that connects to a PC USB port or USB Hub via the Universal Serial Bus (USB) port, providing one High-Speed RS-232/RS-422 or RS-485 jumperless serial port. The RS-232 standard supports full-duplex communication and handshaking signals (such as RTS, CTS) and The RS-485 control is completely transparent to the user and software written for half-duplex COM works without any modification.

In addition to single port Industrial USB to serial converter, some application would require multiple USB ports like 4 serial or 8 serial ports. To meet this requirement, Ethernet Direct also offers:

RUS-414 4-port RS-232 to USB Converter

RUS-814 8-port RS-232 to USB Converter

To learn more about Ethernet Direct products, please visit www.ethernetdirect-tw.com

About Ethernet Direct Corporation
Ethernet Direct brings a control system engineering perspective to networking technology. The principals of Ethernet Direct come from process-control and PLC system backgrounds.

The Global Ethernet Direct team covers operations from Product know-how, design implementation, quality assurance, manufacturing, logistics, sales, marketing & technical support. We are well-positioned to fulfill customers' needs and markets' demands by providing a great variety of tailor-made products and services. When you work with us, you will experience confidence and dependability. By choosing Ethernet Direct, you have chosen excellence & long-term commitment.

Our corporate headquarter is located in Taiwan with Ethernet Direct Partners across United States, Canada, Asia Pacific, Latin America, Europe, and Middle East.
For more information, please visit www.ethernetdirect-tw.com, or contact Ethernet Direct via email: info@ethernetdirect-tw.com

Company Name: Ethernet Direct
Address 1: Taipei
Country: Taiwan
Phone: +886-2-29235918
URL: www.ethernetdirect-tw.com

E-mail: info@ethernetdirect-tw.com

More from Textile Industry Products