Self-Contained Vacuum Plasma System treats flex PCB materials.
Press Release Summary: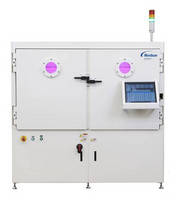 Featuring dual-rack chamber that accommodates up to eighteen 20 x 24 in. panels in one cycle, FlexVIA™ Plasma System treats inner surface layer of flexible PCB prior to lamination for maximum adhesion and reliability. Both sides of flex material surface area are treated in one-step process, enabling rate of 80–120 units per hour. Negating need for temperature control, blower, or fluorine gases, system utilizes gas plasma solutions, such as Ar and O2, and is controlled via touchscreen GUI.
---
Original Press Release:

New Nordson MARCH FlexVIA System Offers Cost-Effective and Easy-to-Use Plasma Treatment for Flexible PCB Materials



~  Versatile system provides a single-step treatment process and uses energy efficient gases for lower cost of ownership ~



Concord, California, USA – Nordson MARCH, a global leader in plasma processing technology, announces its new FlexVIA™ Plasma System, a completely self-contained vacuum plasma system designed for maximum efficiency and cost-effective treatment of flex materials. Plasma is used to treat the inner surface layer of flexible printed circuits boards (PCB), prior to lamination, for improved adhesion and reliability. The dual-rack chamber accommodates up to eighteen 20 x 24 inch panels in a single cycle. Both sides of the flex material surface area are treated in a single-step process enabling a rate of 80-120 units per hour (UPH).



The FlexVIA System features a space-saving, compact chassis 1651 mm wide x 1283 mm deep (65 x 94.5 in.) and an advanced horizontal electrode design to provide optimum material alignment for uniform plasma treatment. Utilizing patented plasma technology the system does not require the use of temperature control, a blower, or expensive fluorine gases. Environmentally friendly and cost-effective gas plasma solutions, such as argon (Ar) and oxygen (O2), are utilized for additional cost saving benefits.



It is easy to load the flexible materials into the chamber of the FlexVIA System via two, optimum height, easy-access, front-loading doors with a maximum loading height of 1310 mm (51.55 in.). Convenient carts smoothly slide the racks in and out of the system. The loading racks also include versatile slide out trays to accommodate a wide range of flexible material sizes. The system is controlled by an intuitive touch screen GUI with a one-button start feature.



"The FlexVIA System's efficient design, economical gas consumption, small footprint and attractive system pricing meet industry demands for a cost-effective and efficient flexible material treatment system. Our many years of innovation and application-specific expertise in the PCB industry are also evident in the operation and ease of use features," stated Dr. James Getty, president, Nordson MARCH.



The first customer deployment is planned for Korea. The FlexVIA Plasma System continues to build on the success of the Nordson MARCH VIA™ line of products, which includes the ProVIA™, MaxVIA™, and RollVIA™ Plasma Systems.



Photolink: www.nordson.com/en-us/divisions/march/PublishingImages/High-Res/FlexVIA-NordsonMARCH-hires.jpg



About Nordson MARCH



Nordson MARCH is the global leader in plasma processing technology for the semiconductor, printed circuit board (PCB), microelectronics, and medical life science device manufacturing industries. Nordson MARCH has offices and applications laboratories worldwide, including California, Florida, Europe, Singapore, China, Japan, Korea and Taiwan. With over 25 years of continuous innovation, Nordson MARCH designs and manufactures a complete line of award-winning and patented plasma processing systems. An expert staff of scientists and engineers is available to assist in the development of plasma processes that improve product reliability and increase production yields. Visit Nordson MARCH on the web at www.nordsonmarch.com or http://www.Facebook.com/NordsonMARCH.



About Nordson Corporation



Nordson Corporation (Nasdaq: NDSN) is one of the world's leading producers of precision dispensing equipment that applies adhesives, sealants, liquid and powder coatings and other materials to a broad range of consumer and industrial products during manufacturing operations. The company also manufactures equipment used in the testing and inspection of electronic components as well as technology-based systems for UV curing and surface treatment processes. Headquartered in Westlake, Ohio, Nordson has direct operations and sales support offices in more than 30 countries.  Visit Nordson on the web at www.nordson.com, www.twitter.com/Nordson_Corp or Facebook.



For more information contact:



Roberta Foster-Smith

Nordson MARCH (International Headquarters)

2470-A Bates Avenue

Concord, California 94520 U.S.A.

Tel.: +1.925.827.1240

E-mail: roberta.foster-smith@nordsonmarch.com 

Website: www.nordsonmarch.com



Agency Contact:



Andrea Roberts

A R Marketing, Inc.

Tel: +1.858.451.8666

Email: andrea@armarketinginc.com

More from Controls & Controllers