Self-Clinching Fasteners can replace riveting or spot welding.
Press Release Summary: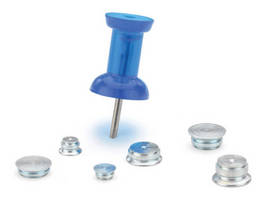 PEM® SpotFast® self-clinching fasteners can be used to attach 2 metal sheets too thin to weld, fasten sheets of unequal thicknesses, join dissimilar metals, attach ultra-thin metal sections, or join metal sheets to PCB or plastic panels. Sheets are permanently joined in flush-attachment connection without protrusions on either side, and rotational capability allows fastener to act as hardened pivot point. Design allows installation in aluminum or steel sheets as thin as .030 in.
---
Original Press Release:
Ideal Alternatives to Riveting or Spot Welding: Pem® Spotfast® Self-Clinching Fasteners Enable Permanent Flush Joining of Two Sheets
PEM® SpotFast® self-clinching fasteners enable two sheets to be joined permanently in a flush-attachment connection without protrusions on either side.  These practical alternatives to riveting or spot welding provide ideal solutions to attach two metal sheets too thin to weld, fasten sheets of unequal thicknesses, join dissimilar metals, attach ultra-thin metal sections, or join metal sheets to PCB or plastic panels.  Their rotational capability offers additional application advantages by allowing the fastener to act as a hardened pivot point.

SpotFast fasteners install smooth with the top sheet and flush or sub-flush with the bottom sheet.  Unlike rivets that "bulb" during installation, this hardware allows for unobtrusive flush attachment requiring minimal space.  Unlike spot welding, a smooth surface is retained for finishing and the  fasteners subsequently can be concealed easily with paints or powder coatings.

The SpotFast product family includes Type SF steel fasteners for metal-to-metal attachment, Type SFP precipitation hardened stainless steel fasteners for installation into stainless sheets where corrosion resistance may be required, Type SFW steel fasteners with supplied wave washer for metal-to-metal single point hinging applications, and Type SFK steel fasteners featuring two separate joining profiles allowing attachment of metal sheets to PCB or plastic panels.

Standard parts in various head diameters and sizes can be installed in aluminum or steel sheets as thin as .030" / 0.8mm.  Detailed specifications, CAD models, and performance data (Bulletin SF) for these RoHS-compliant fasteners can be accessed at www.pemnet.com

Contact Michael J. Rossi, PennEngineering®, 5190 Old Easton Road, Danboro, PA 18916-1000 USA.  Phones: 800-237-4736 (toll-free in the U.S.) or 215-766-8853; Fax: 215-766-0143.  Web site:  www.pemnet.com
More from Fasteners & Hardware