Selective Soldering System handles mixed technology PCBs.
Press Release Summary: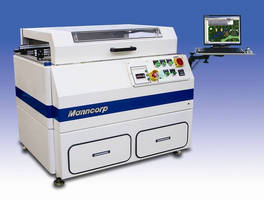 Delivering dip-and-drag selective soldering for post-reflow, through-hole components, and odd forms, IS-450 uses under-board mini-wave to precisely solder connectors, capacitors, and high-power devices onto boards at lead-free process temperatures of 250-330ºC. System is programmable off-line to govern wave temperature and height, as well as travel speed and dwell time at each point. Even when processing densely populated boards, system maintains adjustable clearance of as little as 1.5 mm.
---
Original Press Release:

Customer Feedback Tells Manncorp to Add Intelligent Soldering to Product Mix



Through a recent customer survey and other market research, Manncorp has learned that selective soldering systems rank high on equipment buyers' wish lists. As a result, IS-450 is now part of the company's extensive equipment line. The product automatically solders through-hole components onto mixed technology PCBs using an under-board mini-wave that precisely solders connectors, capacitors and high-power devices onto boards at lead-free process temperatures of 250º to 330ºC.

The U.S.-made IS-450 conducts precise dip-and-drag selective soldering for post-reflow, through-hole components and odd forms. The system is powered by closed-loop servo motors for X, Y & Z axis motion that articulates the fluxer and mini-wave. Even when processing densely populated boards, the system maintains adjustable clearance, i.e., "keep-away" of as little as 1.5mm.

CEO Henry Mann claims the IS-450 will achieve quick payback since it solders from 3 to 8x faster and with higher accuracy than hand soldering. The system is programmable off-line to govern wave temperature and height, travel speed and dwell time at each point. He also contends that defects common to both hand and wave-soldered boards - such as bridging, lifted pads, measling, etc. never occur with the IS-450. The system is introductory-priced at $59,995, valid until June 14, 2010.

For additional information, access Manncorp Selective Soldering Learn More, call 1.800. PIK MANN (745.6266) or e-mail sales@manncorp.com. Manncorp offers pick-and-place machines, stencil printers, reflow ovens, rework systems, wave solder machines, solder pastes, board cleaners, desiccant cabinets, nitrogen generators and more. Accessing manncorp.com is an informational experience. Not only are full details and specifications provided for the 250+ products, but prices are also attainable within five seconds after minimal contact information is provided.

About Us:

Manncorp, founded in l968, is a supplier/manufacturer of surface mount production equipment used in prototyping to mid-volume printed circuit board (PCB) assembly. Equipment offered includes stencil printers, flexible pick and place systems, lead-free reflow ovens and wave solder machines. Manncorp "Turnkey Systems" of pre-selected printing, placement and reflow equipment are geared to user throughput and budgetary requirements. Other products include through-hole lead forming, depanelers, component counters, air compressors, desiccant cabinets, stencil cleaners, aqueous PCB cleaners, nitrogen generators, soldering equipment and accessories, including solder paste, solder paste dispensers and rework systems. All products are described at manncorp.com.

Contact:
Henry Mann
hmann@manncorp.com
800.pik.mann (745.6266)

More from Machinery & Machining Tools