Secure Gripping in Many Variants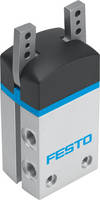 Standard gripper series from Festo sets new standards

Technical updates are placing standard grippers from Festo in a leading position for mechanical engineering applications of tomorrow. The parallel, three-point, radial and angle grippers DHxS from Festo are compact and offer greater reliability in the gripping process.

HAUPPAUGE, NY - Standard grippers are the first choice for cost-effective, lightweight and compact construction of handling and assembly systems. The parallel, three-point, radial and angle gripper series DHxS from Festo features optimized gripping force retention and overload protection as well as integrated sensor slots. It offers increased reliability in a range of sizes and stroke lengths.

Precise

A number of forward-looking features ensure reliability and precision. The integrated fixed restrictor provides an effective safety buffer, protecting against overloading during high-speed gripper motions and preventing damage due to excessive forces. The integrated sensor slots in the medium and large sizes offer the advantage of cost-effective stroke sensing via sensors SMx. Their successful integration has resulted in a slim, compact design without any interference contours caused by external sensors. The new, compression spring-assisted gripping force retention provides more security in the event of a pressure failure. In addition, T-slot guides increase the torque resistance of the gripper jaws.

The double-acting piston drive gives the standard grippers stable kinematics and maximum repetition accuracy. A wide range of mounting options in the form of threaded, fitting and centering holes make the new generation of Festo standard grippers very flexible to mount.

Reliable

The parallel and three-point grippers DHxS have lightweight aluminium housing with integrated receiving hole for the pneumatic piston. The force generated by the linear motion is transferred to the low-
backlash gripper jaws by means of lever kinematics. Since the lever is
indirectly in mesh with the two gripper jaws via a piston rod,
there is no need for additional synchronization.

The pneumatic pistons of the double-acting DHxS radial and angle grippers act on the gripper jaws, mounted on pivots in a gripper jaw guide, by means of a slotted guide system. As with parallel and three-point grippers, this means that there is no need for separate synchronization.

For sales information, call Festo at 800-993-3786 and visit www.festo.com/us.

Follow this link to download images http://www.festo.com/net/en_corp/SupportPortal/press.aspx?q=Secure+gripping+in+many+variants&tab=11&s=t

Media Contact:

Journalists write to the Festo Marketing Manager marketingmgr@us.festo.com for additional information and access to high resolution images.

More from Laboratory and Research Supplies and Equipment