Seco Tools Engineered Solutions to Take Center Stage at IMTS 2016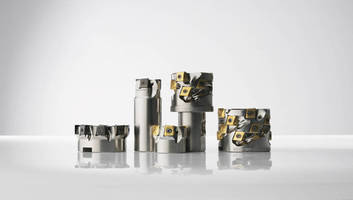 TROY, Mich. – Seco Tools will spotlight its Engineered Solutions along with many other new tooling innovations at IMTS 2016 in booth W-1564. As a function of its Engineered Solutions division, Seco provides customers with competitively priced, fully engineered tooling solutions for their individual manufacturing needs. The company will exhibit several examples of these real-world Engineered Solutions that have resulted from Seco's unparalleled design, engineering and manufacturing capabilities.



Among Seco's new tooling innovations at IMTS, its new Square T4-12 milling cutter now with larger size inserts will draw much attention, as will the new Highfeed 6 cutter for tough materials and the next generation of the dependable high-performance Niagara Stabilizer solid carbide end mill. On the insert development front, Seco continues to lead the industry and will bring several new grades to IMTS, including those within its PCBN product range and its Duratomic®-technology-based TK and TP ranges that incorporate Chrome Used-Edge Detection.



Square T4-12

With larger insert sizes, Seco's T4-12 line of square shoulder and helical milling cutters allows parts manufacturers to achieve increased depths of cut and higher metal removal rates when roughing and semi-finishing steel, cast iron and other workpiece materials.



The bigger inserts all come with four curved cutting edges that lower tooling cost per part and ensure smooth machining operations. They tangentially mount in the cutter bodies for increased performance stability and easier access to their mounting screws. Plus, this mounting design directs cutting forces to the thickest part of the inserts, which contributes to their higher metal removal capability.



Cutter diameters for the larger T4-12 square shoulder inserts range from 1" to 5" (25 mm to 125 mm), with corner radii up to 0.125" (3.1 mm). Diameters for the larger T4-12 helical inserts range from 2" to 4" (50 mm to 100 mm), with corner radii up to 0.125" (3.1 mm). The inserts also come in a wide selection of grades and geometries as well as in normal and close pitch versions.



Highfeed 6

Seco's new high-performance Highfeed 6 milling cutter easily tackles a variety of difficult-to-machine materials from stainless steel to heat-resistant superalloys. The large-diameter cutter bodies are capable of 0.070" (1.8 mm) axial depths of cut and feature double-sided inserts with six cutting edges for unsurpassed material removal and low operating costs. The cutter performs equally well in all types of high-feed applications, including face milling and plunging operations.



Highfeed 6 inserts mount at low lead angles to direct machining forces up into the machine tool spindle rather than radially against the side of the tool. As such, the tool experiences less vibration and provides long, predictable performance.



Niagara Stabilizer 2.0

As industry game changers, the Niagara Stabilizer 2.0 next-generation – STR-430 and STR-440 Series – solid-carbide end mills offer metal removal rates double those of their predecessors. Also, with twice the chip load capacity, the new versions shorten part machining cycle times and further boost productivity.



The end mills come in diameters from 0.125" to 1.0" with square corner and corner radii, based on series and diameter, of 0.010", 0.020", 0.030", 0.060" and 0.120". Lengths are 1xD, 2xD and 3xD, and shanks are either cylindrical or have Weldon Flats.



As with all Niagara solid end mills, Seco offers its Just In Five (JIF) program with the Stabilizer 2.0 for quick turnarounds on modifications of the new tool. In just five business days and at very competitive prices, Seco will modify and coat the tool to the same specifications as new products. The program is well suited for lot sizes of 20 or less pieces and not designed to provide large volume specialty tools.



PCBN inserts

Thanks to a new bimodal substrate with coarser grain materials, new insert grades within Seco's PCBN range are significantly tougher, more wear-resistant and ideal for hardened steel (ISO H05 to H35) part turning. Eleven new PCBN-grade insert geometries cover a wide variety of applications/cutting conditions and provide exceptional tool life as well as superior surface finishes.



The CH0550 insert series delivers high-speed continuous cuts in H05 materials, the CBN060K excels in continuous or medium-interrupted cuts in H15 materials and the CH2540 inserts accommodate light-to-heavy interruptions in H25 materials, while the CH3515 series takes on heavy interruptions in H35 materials.



TP grades (Duratomic)

Incorporating Seco's Duratomic Technology, TP2501, TP1501 and TP0501 turning grade inserts feature the companies innovative Chrome Used-Edge Detection, making it easy to avoid insert waste without sacrificing tool performance. The new grades and their detection abilities are direct results of Seco's Edge Intelligence concept – an integration of the company's extensive high-performance insert experience and knowledge.



The TP2501, TP1501 and TP0501 inserts offer an expanded choice of solutions for workpieces in the ISO P materials category of steel as well as additional applicability in stainless steel and cast iron. With a broad working range, the TP2501 grade provides dependable productivity and reliable part production in most steel-turning applications.



TP1501 is a general grade with well-balanced properties for applications that requirehigh wear resistance and excellent surface finish in low-alloy carbon steel workpieces. And of all the new grades, TP0501 provides the highest possible wear resistance and/or cutting speeds in relation to all steels, especially high-alloy and abrasive steels.



TK grades

Additional Duratomic-technology-based Seco grades that will be at IMTS are the company's TK1501 and TK0501 grades designed for exceptional performance in cast iron turning. The inserts are tough, wear resistant and process more parts per edge. The Duratomic coating expands their application range while increasing overall tool life and productivity through a perfect balance of toughness and hardness for the highest performance. Both TK1501 and TK0501 also feature Chrome Used-Edge Detection to minimize waste.



About Seco Tools, LLC

Seco Tools, LLC is a leading provider of metalcutting solutions for milling, turning, holemaking and toolholding. The company prides itself on building close relationships with customers to effectively understand and address their needs. For more information on the company's products and services, please contact Bob Heery, Seco Tools, LLC, 2805 Bellingham Drive, Troy, Michigan, Tel: 248-528-5451, Email: bob.heery@secotools.com, visit www.secotools.com/us or follow the company on Twitter at @SecoToolsUS.



More from Mechanical Components and Assemblies