Seco to Highlight New Tools Developed Around Modern Materials at IMTS 2014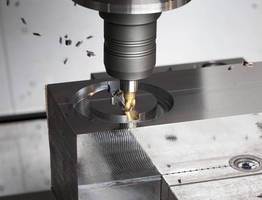 TROY, Mich. – At IMTS 2014 in booth W-1564, Seco Tools, LLC will unveil several new milling, turning, threading and tool holding products that were developed with material advancements in mind, including a square shoulder cutter that enhances side-milling operations, a multi-edge system that meets the industry's demand for narrow cutting-edge grooving and parting-off tools, an insert that provides high-performance threads in a single pass, and toolholders with special vibration damping capabilities. Booth visitors will experience these and many other new tooling developments at the show, which runs Sept. 8-13 in Chicago's McCormick Place. 



Milling



Seco will spotlight several milling insert grades at IMTS 2014, including the new MS2050 that utilizes an advanced coating technique and substrate to bring enhanced process reliability and higher cutting data to applications involving titanium alloys. The special PVD coating on the MS2050 not only strengthens the insert's wear resistance but also eliminates reaction with the workpiece material for increased cutting speeds and tool life and a lower cost per part. MS2050 is available in a variety of positive geometries for square shoulder milling, face milling, copy milling and high-feed milling.



With its four cutting edges and innovative cutter design, the new Square T4-08 shoulder milling solution that will be on display at IMTS balances economy and performance when machining cast iron and steel. Made for roughing and semi-finishing operations, the Square T4-08 brings smooth cutting action and good surface finish to slotting and contouring applications. The tangential mounting of the tool's inserts increases the surface area of contact between the inserts and cutter body, resulting in increased rigidity and machining stability. Additionally, such a mounting design directs the cutting forces to the thickest part of the inserts, providing highly robust milling performance and increased metal removal rates with small diameters.



IMTS attendees will also see the latest in flexible, cost-effective modern endmill design by way of the Minimaster® Plus replaceable milling tip system. Engineered with speed, precision and complete versatility in mind, the system offers a large selection of inserts and shanks for a multitude of tough milling applications, including those that involve steel, stainless steel, cast iron and aluminum materials. Most recently, Seco made this system even more adaptable by adding internal coolant capability to all three of the diameter sizes of its new high-feed milling heads.



As more manufacturers opt for stronger, lighter composite materials instead of steel to reduce the weight of the parts they produce, Seco has developed dedicated tooling for the rapidly growing use of this material. Among those products are the Jabro® JC840 and JC845 that will be on display at IMTS. The JC840 double helix end mill cutter effectively machines laminated materials by directing its cutting forces inward and toward the component filler material during slotting and side milling operations. The JC845 solid end mill reduces delamination, pressure build up and heat in the cutting zone when slotting and side milling carbon fiber reinforced plastics.



Turning



Regarding advanced turning inserts for different materials, Seco will exhibit its Duratomic®-coated TK1001 and TK2001 carbide grades that bring exceptional wear resistance and faster cutting speeds to cast iron applications as well as the TP1030 cermet grade that maintains tight tolerances and high surface finish in high-volume threading operations involving steels and stainless steels. From its Secomax™ line, the company will highlight CBN010, an uncoated PCBN grade that has high resistance to edge chipping when cutting hardened steels, and CBN060K for turning case hardened steels within the application area defined by H10 – H20 ISO designations.      



Seco's X4 multi-edge system meets the industry's demand for narrow cutting-edge grooving and parting off tools. At IMTS, attendees will see how the company has added smaller shanks to the short reach system so that it can accommodate an even broader range of machining applications such as Swiss parts. Overall, the X4 consists of indexable tangential inserts with three-dimensional chipbreakers and a highly stable clamp design. These strong, dependable system components achieve high accuracy, repeatability, productivity and surface quality in external grooving and parting-off operations involving small parts, slim bars and tubes made from a wide variety of common materials.



Threading



The new Thread Chaser inserts that Seco will have on display at IMTS incorporate multi-tooth patterns to allow push and pull threading of O.D. and I.D. features with one or two passes. The inserts incorporate precise thread patterns that quickly and reliably generate high-accuracy, consistently perfect thread pitches. Through-coolant holes and chip formers direct high-pressure coolant precisely to the cutting edge to optimize chip formation, provide efficient chip evacuation and extend tool life. These inserts will provide substantial value to manufacturers working with pipes and couplings made from a wide range of material hardnesses for the oil and gas industry.

   

Tooling Systems



At IMTS, attendees will see how Seco has expanded its well-established Steadyline™ range of vibration-damping milling toolholders with the addition of turning and boring bars as well as shrink-fit style holders. Ideal for long tool overhang situations, this new Steadyline tooling effectively reduces unwanted vibrations via a dynamic-passive system inside each holder body where a damping mass counter vibrates against the first flex vibration. The result is turning and boring bars that deliver higher metal-removal rates, generate smoother chatter-free workpiece surfaces and increase tool life, while reducing stress on machine tools. The product range includes bars for 6 x D, 8 x D and 10 x D.



Plus, the added Steadyline tooling sports Seco's new patented GL connection that lets end users perform both rotating and static operations with the same bar. The connection's polylobe taper-face interface features two 180-degree positions to orient the cutting edges either face up or face down for effective chip control. The extremely precise GL connection ensures quick, easy and accurate exchanges of both turning heads and boring heads on the Steadyline bars. Once the bar is set, users can mount and remount the tool heads without having to reset the system. Turning and boring bars require only the use of a spanner wrench to loosen and tighten the tool heads.



Visitors to the Seco booth will also experience the company's new Steadyline EPB K603 / K600 Shrinkfit holders. Like other Steadyline holders, these, too, use the dynamic / passive damping technology for effective vibration control. These non-material dependent Shrinkfit holders address the needs of the moldmaking, aerospace, power generation and any other industries where machining requires extremely long tool overhangs, such as in the production of deep housings or blisks.



Seco designed the EPB K603 according to DIN standard front-end dimensions for optimum work-piece access. EPB K600 uses the reinforced Shrinkfit design of the recently launched EPB 5600 ranges. Steadyline holders perform depths of cut and feeds up to three times higher compared to non-damped holders. In testing, K603 / K600 delivered such performance improvements in applications with tooling system overhangs of up to 10".



About Seco Tools, LLC

Seco Tools, LLC is a leading provider of metalcutting solutions for milling, turning, holemaking and toolholding. The company prides itself on building close relationships with customers to effectively understand and address their needs. For more information on the company's products and services, please contact Lisa Seidl, Seco Tools, LLC, 2805 Bellingham Drive, Troy, Michigan 48083, Tel: 248-528-5444, Email: lseidl@secotools.com, visit www.secotools.com/us or follow the company on Twitter at @SecoToolsUS.

More from Machinery & Machining Tools