Seco Increases Flute Options for Popular Jabro® High-feed End Mill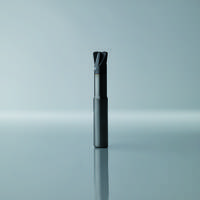 TROY, Mich., Dec. 1, 2016 – Seco has expanded the high-feed machining applicability of its Jabro-HFM JHF980 solid-carbide end mill with new 4- and 5-flute options.
The additional flutes allow part manufacturers in industries such as aerospace and medical to achieve maximum productivity when performing face, slot and select plunge milling operations.
Seco applied the latest design and grinding developments to successfully increase the number of flutes on the JHF980, allowing it to provide double the feed rate capability of previous Jabro end mills. Test results indicate the JHF980 4- and 5- flute cutters also offer increased tool life over earlier designs when applied at the same table feed rates.
Metal removal for the new JHF980 high-feed cutters is more aggressive compared to conventional tools and milling methods. As such, manufacturers can lower their production expenses and stay more competitive. High-feed machining pairs shallow axial depths of cut with accelerated table feed rates for increased metal removal. Furthermore, cutting forces are directed axially into the spindle, thereby stabilizing the operation, minimizing vibration and lessening wear on the machine tool.
JHF980 end mills feature an ultrafine carbide grade and a monolayer TiAIN coating, which contributes to their success in high-feed applications. The coating also helps lower operating costs by eliminating the need for coolant in high-temperature situations. The TiAIN layer insulates the cutters and transfers heat into the chips.
Cutting diameters for the 4-flute JHF980 range from 2 mm to 6 mm, while the 5-flute version spans 8 mm to 12 mm. Both cutters are available in 1.5xD, 5xD and 7xD lengths. Overall, JHF980 cutters cover a wide application area that involves processing a variety of parts from steel to exotic metals. Part examples include casing pockets, knee caps and 3D cavities. The cutters also reduce production costs when processing shallow and deep pockets.
Optimal application of the JHF980 cutters is dependent on several factors, from the age of the machine tool being used to the part size being cut. For example, the cutters can run at maximum feed rates when applied alongside a highly rigid, modern machine tool. Proper programming is also important to ensure optimisation of the cutter path. With the right CAM program, it is possible for the JHF980 to perform Z level finishes on the sides of a part. Seco can assist manufacturers in developing the most appropriate high-feed machining strategies for their operations.
For more information on the Jabro-HFM JHF980 solid-carbide end mill, please contact a local Seco representative or visit www.secotools.com/en/Global/Products/Milling/Solid-carbide-end-mills/HFM/.
About Seco Tools, LLC
Seco Tools, LLC is a leading provider of metalcutting solutions for milling, turning, holemaking and toolholding. The company prides itself on building close relationships with customers to effectively understand and address their needs.
For more information on the company's products and services, please contact
Bob Heery,
Seco Tools, LLC,
2805 Bellingham Drive,
Troy, Michigan,
Tel: 248.528.5451,
Email: bob.heery@secotools.com,
visit www.secotools.com/us.
More from Controls & Controllers