Hydraulic / Pneumatic / Radial Shaft Seals
Seals handle temperatures up to 200°C.
Press Release Summary: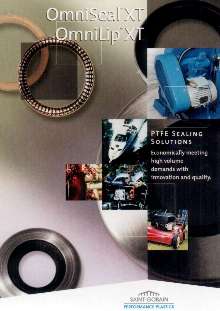 OmniLip(TM) XT and OmniSeal® XT Seals utilize Fluoroloy PTFE compounds and stainless steel spring and case material. They provide chemical resistance and reduced friction over elastomer seals. Both types range from 12-65 mm and can handle surface speeds up to +20 m/s. Max pressure is 200 KPa for OmniLip XT and 55 Mpa for OmniSeal XT. Seals are suited for electrical driven tools and equipment, engines, shock absorbers, transmissions, fuel pumps, and gear boxes.
---
Original Press Release:

Saint-Gobain Introduces New Economically-Priced Omnilip(TM) XT and OmniSeal® XT High Performance Seals


Optimum Performance, Innovation and Quality
Saint-Gobain Performance Plastics, a world leader in high performance seals for offshore oil and gas applications, aerospace and many other difficult industrial applications, have recently introduced their new OmniLip(TM) XT and OmniSeal® XT
high-performance seals.

Design and manufacturing of the OmniLip XT and OmniSeal XT seals began with research into the performance of the existing OmniLip rotary and OmniSeal spring energized seals. This research resulted in the development of an entirely new patented production process, which has enabled Saint-Gobain to produce high quality XT Seals in large volumes for an economical price.

Both OmniLip XT and OmniSeal XT utilize proven Fluoroloy PTFE compounds and stainless steel spring and case material. They provide exceptional life, chemical resistance and reduced friction over elastomer seals.

The OmniLip XT and OmniSeal XT are available from 12 to 65 mm, can handle temperatures up to 200°C, surface speeds up to +20 m/s and pressures up to 200 KPa (for OmniLip XT) and 55 Mpa (for OmniSeal XT).

This new generation of economically priced lip seals and spring energized PTFE seals are ideal for high volume applications such as electrical driven tools and equipment, engines, shock absorbers, transmissions, fuel pumps, appliances, gear boxes and industrial applications. Informative XT Seals brochures are now available from Saint-Gobain.

For more information, contact 1-800-544-0080 (California), or Email -- sealsmarketinqasaint-gobain.com.

Omnilip is a Trademark/OmniSeal is a Registered Trademark

Related